We're excited to share what's new to the Wisdom Experience this April and hope it continues to provide you with moments of encouragement, joy, and peace.

The Art of Disappearing and Yangsi are available to Free members during the month of April.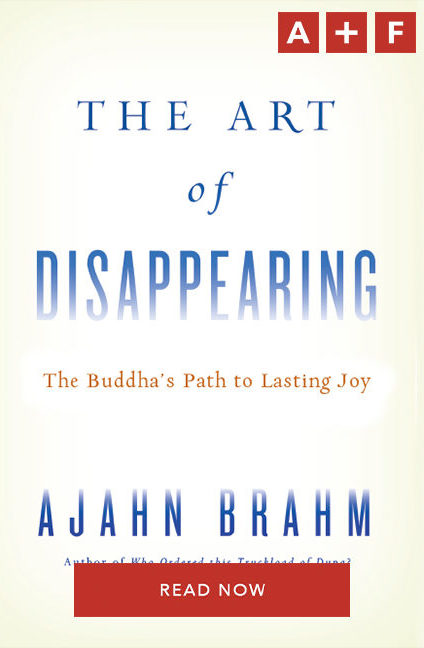 In The Art of Disappearing, Ajahn Brahm helps us learn to abandon the headwind of false expectations and follow instead the Buddha's path of understanding. Releasing our attachment to past and future, to self and other, we can directly experience the natural state of serenity underlying all our thoughts and discover the bliss of the present moment. In that space, we learn what it is to disappear. Ajahn Brahm, an unparalleled guide to the bliss of meditation, makes the journey as fun as it is rewarding.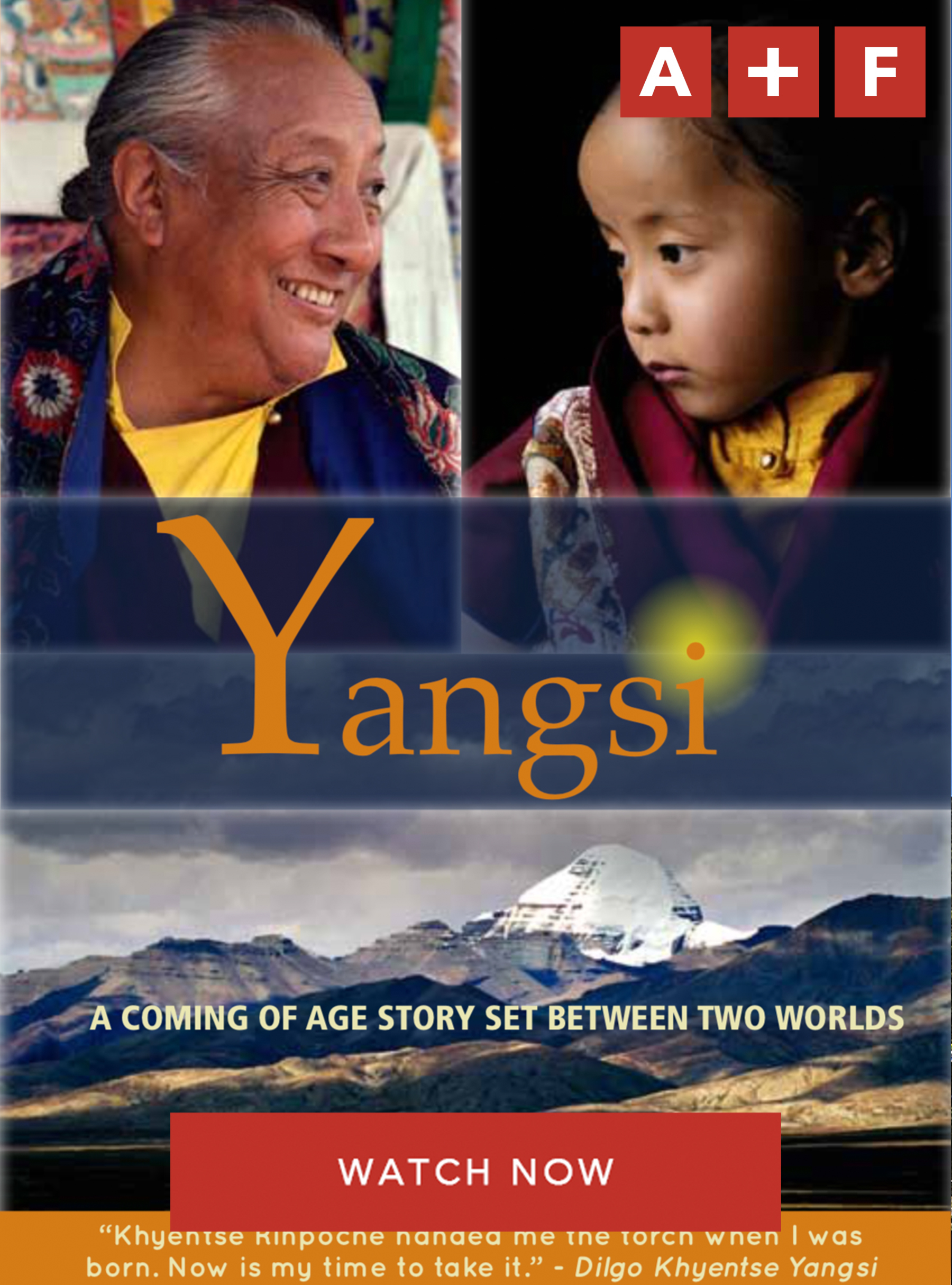 Yangsi follows Ugyen Tenzin Jigme Lhundrup, a young Tibetan boy who is recognized as the reincarnation of Dilgo Khyentse Rinpoche, one of the most revered Tibetan Buddhist masters of the twentieth century. Including short interviews with eminent Buddhist teachers, Yangsi tells a unique coming-of-age story as it explores facets of the reincarnation issue, from traditional beliefs to an honest questioning of spirituality in the modern age, along with the doubts, hesitations, and the unusual strength of character of the Yangsi.
Don't forget, you can invite your friends to sign up for a Free membership to join you.

We wanted to remind new members that Plus and All-Access members can enjoy our Lecture Series at any time, and Free members can watch the first lecture in any series as well. Join Barry Magid, Malcolm Smith, Robert Thurman, and more as they teach on a singular topic. Start exploring Lecture Series now.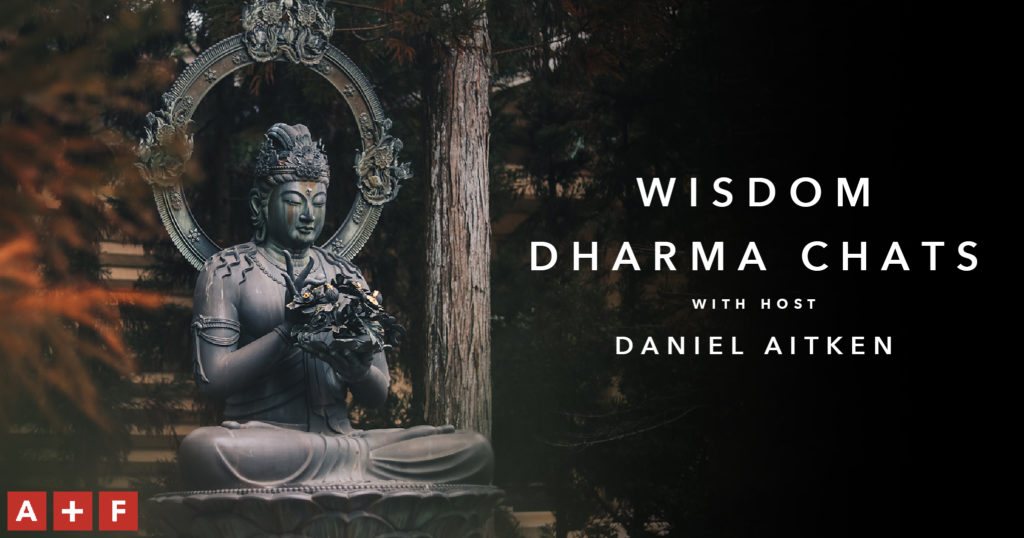 Register now and join us as host Daniel Aitken and special guest Thupten Jinpa discuss his new book, Illuminating the Intent on April 14. Other special guests in April include Zurmang Gharwang Rinpoche on April 21. You can also watch the recording of our Wisdom Dharma Chat with special guest Dzigar Kongtrul Rinpoche where he and Daniel discuss patience.
Also Available to Watch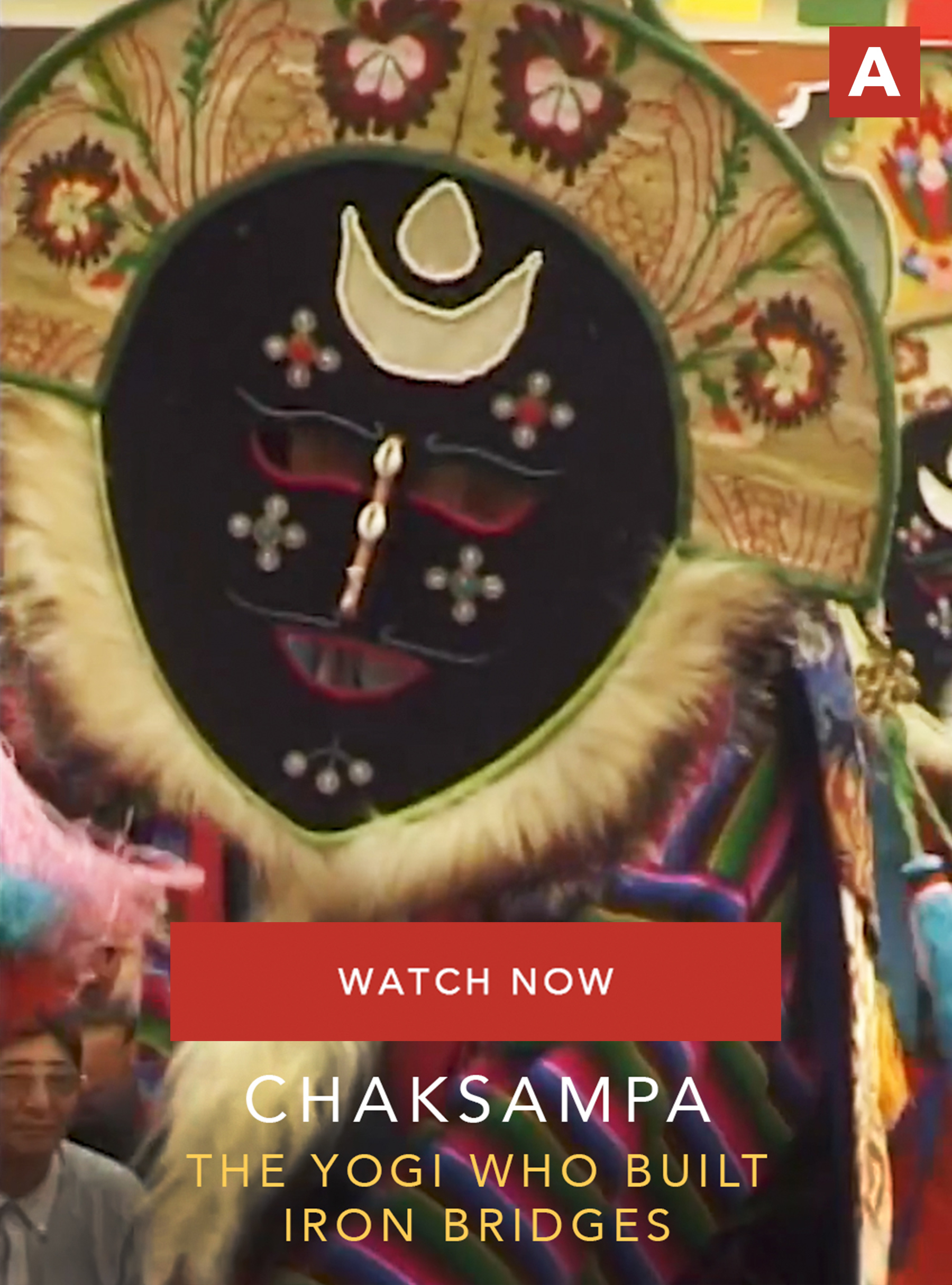 This April we've added Chaksampa to the Wisdom Experience for All-Access members. A documentary film about the Tibetan Opera Group of Kathmandu, which created a new opera based on the life of Thangtong Gyalpo—the 14th Century Tibetan Yogi who founded the tradition of Tibetan Opera. The film follows the rehearsal of the opera, and its performance at the Shoton Opera Festival in Dharamsala, India, in the presence of His Holiness the Dalai Lama.

Discover all the books in our Reading Room under the "Explore" menu on our website. Books in our Reading Room are available exclusively for Plus and All-Access Members.
Featured in the Reading Room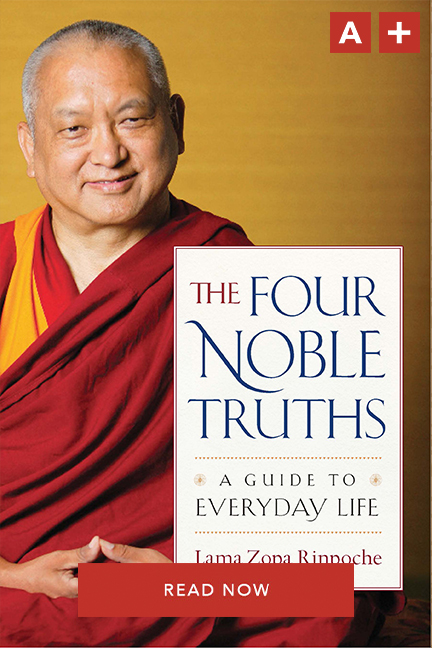 The Four Noble Truths begins with an excellent elucidation of the nature of the mind and its role in creating the happiness we all seek. Lama Zopa Rinpoche then turns to an in-depth analysis of the four truths. The first truth is that we are suffering because we are in cyclic existence, or samsara, the beginningless cycle of death and rebirth characterized by three types of suffering: the suffering of suffering, the suffering of change, and pervasive compounding suffering. These are not inflicted on us without cause, nor do they come from others. The second truth tells us that there is a cause for all this suffering—the delusions and karma that arise from the ignorance that fails to see the way in which things exist. Because there is a cause and because we can develop the wisdom realizing emptiness, the antidote to ignorance, we are able to actualize the third truth, the cessation of suffering. How we do that is explained in the fourth truth, the path to the cessation of suffering.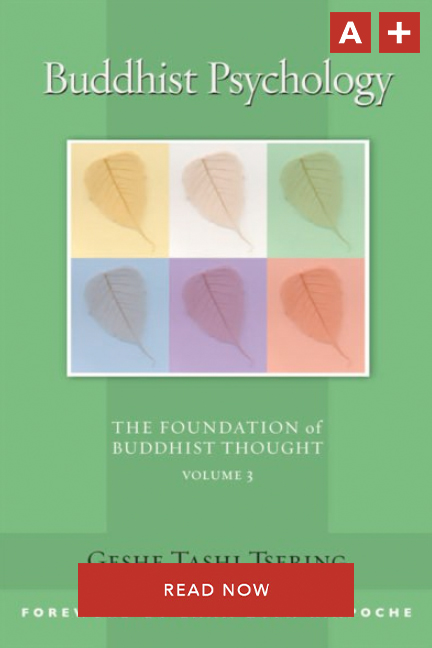 Buddhist Psychology provides a stand-alone and systematic—but accessible—entry into how Buddhism understands the mind. Through it Geshe Tashi Tsering addresses both the nature of the mind and how we know what we know. Just as scientists observe and catalog the material world, Buddhists for centuries have been observing and cataloging the components of inner experience. The result is a rich and subtle knowledge that can be harnessed to the goal of increasing human well-being.
Also in Your Reading Room
Exclusively for Plus and All-Access members
New Releases & Back in Stock

The following books were released in March, are available to purchase early on our website, or are now back in stock: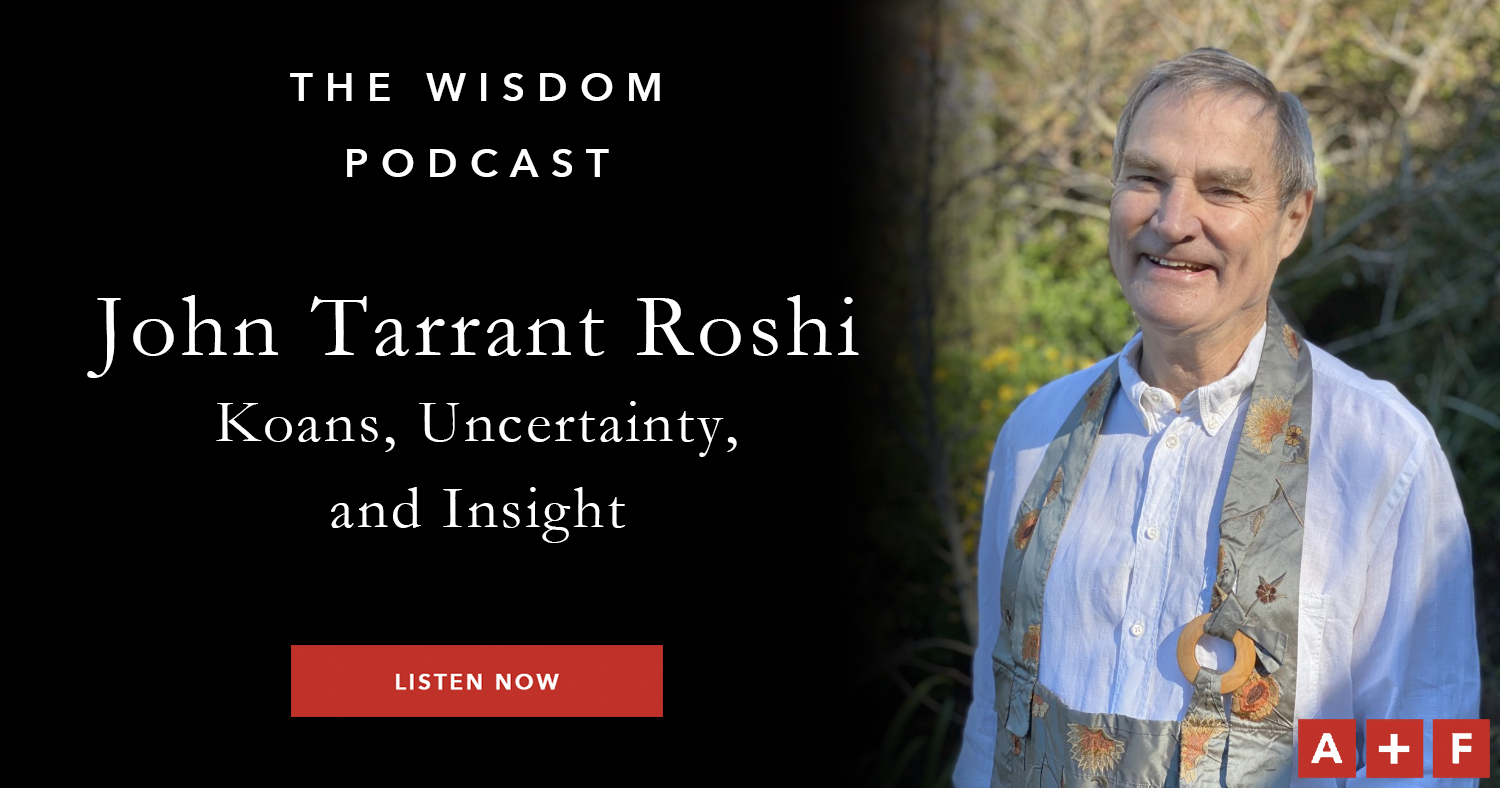 For this episode of the Wisdom Podcast, host Daniel Aitken speaks with Zen teacher John Tarrant about one of John's favorite topics: Zen koans. As a meditation teacher, koans are a core foundation of John's teaching methodology, and he has spent a lifetime refining his understanding of their function as a gateway to insight as well as a teaching tool. For John, a koan is not a gadget but a method and an environment. Instead of viewing Zen as a set of rules and procedures, John discusses koan practice as a creative process. Like a poet who trusts that the next line will appear in his or her poem, engaging with a koan requires a similar leap into uncertainty. Likewise, uncertainty can itself function as a method and an object of trust. John also speaks to the function of beauty, art, and music as being koan-like in their ability to spark insight.
A native of Australia, John also considers the parallels between Aboriginal spirituality and Buddhist practice and shares stories from his early years meditating in the rainforest that laid the foundation for his spiritual practice. The podcast concludes with John sharing a reading of "The Master Song Man: An Australian Koan" from his book Bring Me the Rhinoceros.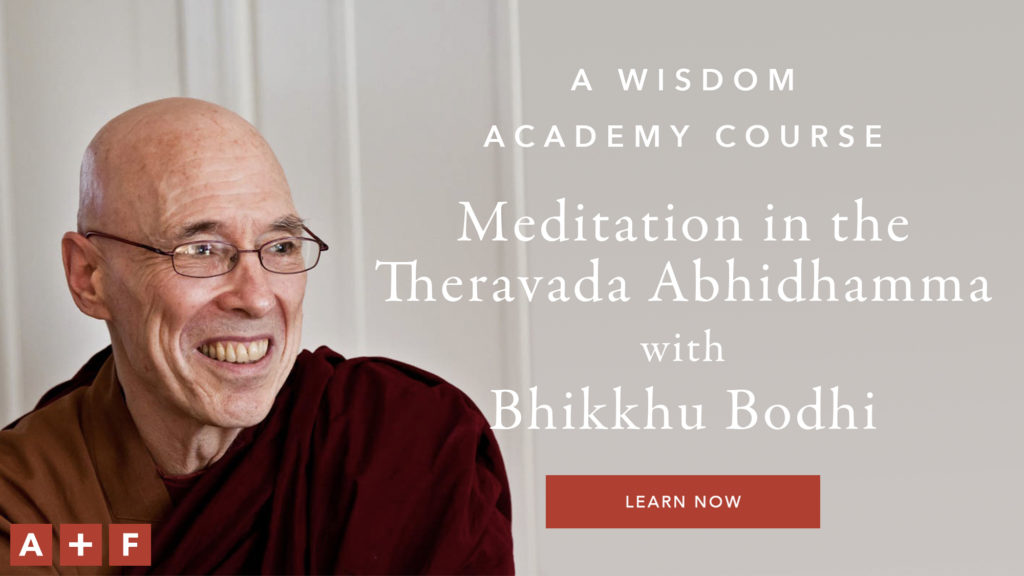 Don't forget that all our members—Free, Plus and All-Access—can learn from Bhikkhu Bodhi as he teaches about Meditation in the Theravada Abhidhamma. In his signature lucid style, Bhikkhu Bodhi explores two aspects of classical Buddhist meditation: samatha (serenity) and vipassanā (insight), aimed respectively at samādhi (concentration) and the realization of the paths and fruits.