As we continue into the second half of 2020, we hope the rich world of Dharma and the sangha that you have access to as a member of the Wisdom Experience continue to provide you with moments of inspiration, adventure, and awakening. We're excited to share your new content with you. We hope you enjoy it!

The following content will be available to Free members of the Wisdom Experience during August.
The Library of Wisdom and Compassion is a special multivolume series in which His Holiness the Dalai Lama shares the Buddha's teachings on the complete path to full awakening that he himself has practiced his entire life. The topics are arranged especially for people seeking practical spiritual advice and are peppered with the Dalai Lama's own unique outlook. Assisted by his long-term disciple, the American nun Thubten Chodron, the Dalai Lama sets the context for practicing the Buddha's teachings in modern times and then unveils the path of wisdom and compassion that leads to a meaningful life and sense of personal fulfillment.
This series is an important bridge from introductory to profound topics for those seeking an in-depth explanation from a contemporary perspective, and during September we're making the third volume in the series, Saṃsāra, Nirvāṇa, and Buddha Nature, available to read in the Reading Room to Free members of the Wisdom Experience.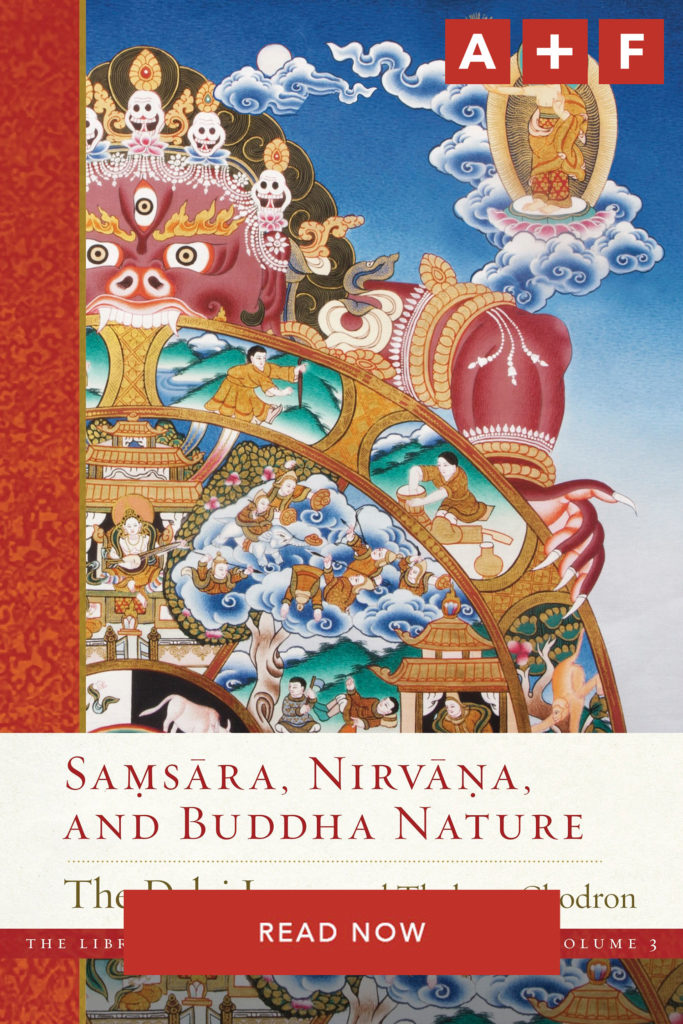 Knowledge of buddha nature reveals and reconciles the paradox of how the mind can be the basis for both the duhkha of samsara (the unpurified mind) and the bliss and fulfillment of nirvana (the purified mind). To illustrate this, Saṃsāra, Nirvāṇa, and Buddha Nature first takes readers through Buddhist thought on the self, the four truths, and their sixteen attributes.
It then explains afflictions—including how they arise and their antidotes—followed by an examination of karma and cyclic existence, and, finally, a deep and thorough elucidation of buddha nature. Saṃsāra, Nirvāṇa, and Buddha Nature shows us how to purify our minds and cultivate awakened qualities.
This month we're making Infinite Potential available to watch for all our members. Infinite Potential tells the story of physicist David Bohm. A true scientific maverick whose discoveries extend beyond the field of physics, Bohm turned to Eastern wisdom to develop groundbreaking insights into the profound interconnectedness of the universe and our place within it.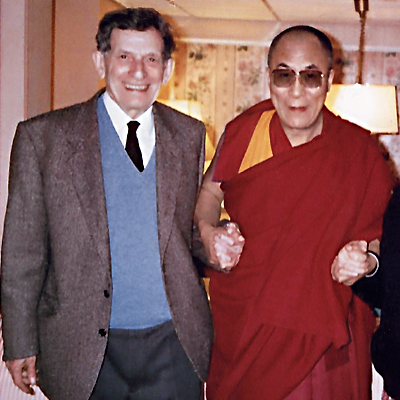 He called it the "quantum potential." He was one of the twentieth century's most brilliant physicists. Albert Einstein called him his spiritual son. The Dalai Lama relied upon him as his "science guru." So why is it that hardly any of us know the name David Bohm?
By telling the little-known story of David Bohm and evoking the realms he explored in his research, Infinite Potential takes us on a mesmerizing and immersive journey into the mystery of consciousness—through the use of hypnotic music and rich visual tapestries. The film includes interviews with luminaries such as H.H. the Dalai Lama, esteemed artist Antony Gormley, Oxford philosopher and physicist Sir Roger Penrose, and many more who were influenced by Bohm's revolutionary work.
Join the panel discussion, Quantum Potential: A Pathway to Peace, to learn more about this film and the quantum potential for peace, on World Peace Day, September 20, at 6:00 PM EST. Click here to register.
This film is only available to members during September.
Tibet: A Buddhist Trilogy Part 3: The Fields of the Senses will be available to Free members in October.
Don't forget, you can invite your friends to sign up for a Free membership to join you.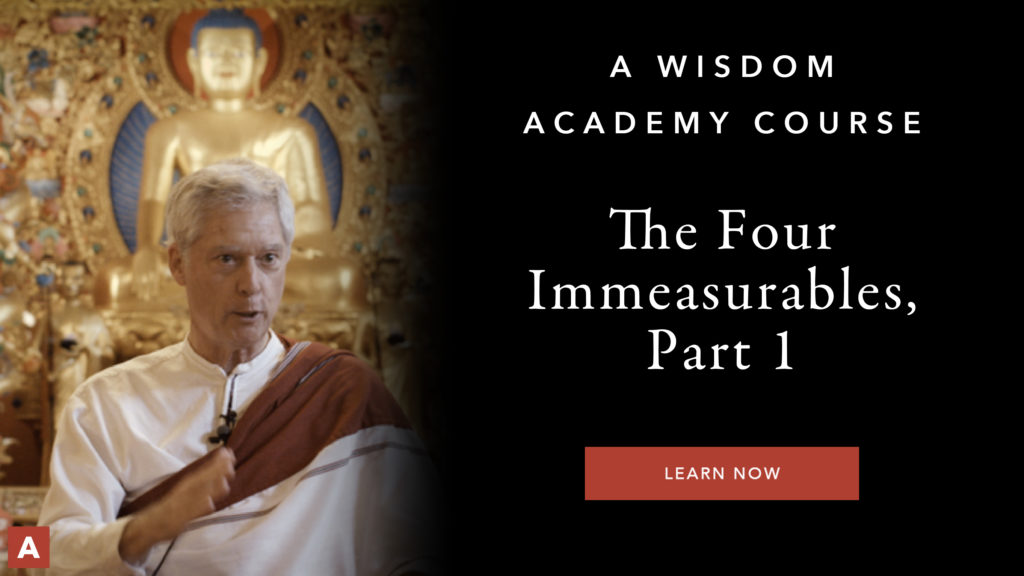 We're pleased to announce that The Four Immeasurables, Part 1 is now available to All-Access members of the Wisdom Experience. In this course, taught by B. Alan Wallace—a teacher internationally renowned for the clarity and profundity of his teachings—you'll learn about the following areas of Buddhist study and practice:
the theory and application of the first two of profound practices known as the Four Immeasurables, or the Divine Abidings (brahmaviharas): loving-kindness and compassion (the second two are sympathetic joy and equanimity, to be covered in Part 2 of this course, which will be made available to All-Access members in Spring 2021)
the first two of the four "greats": Great Loving-Kindness and Great Compassion. In Alan's teaching, the "four greats" require a fundamental shift from aspiration to intention.
Both parts of the course will also touch on
pith instructions on different methods of shamatha and vipashyana
the cultivation of bodhicitta
the practice of sadhana
the practice of relative and ultimate bodhicitta in the context of Dzoghchen
and much more.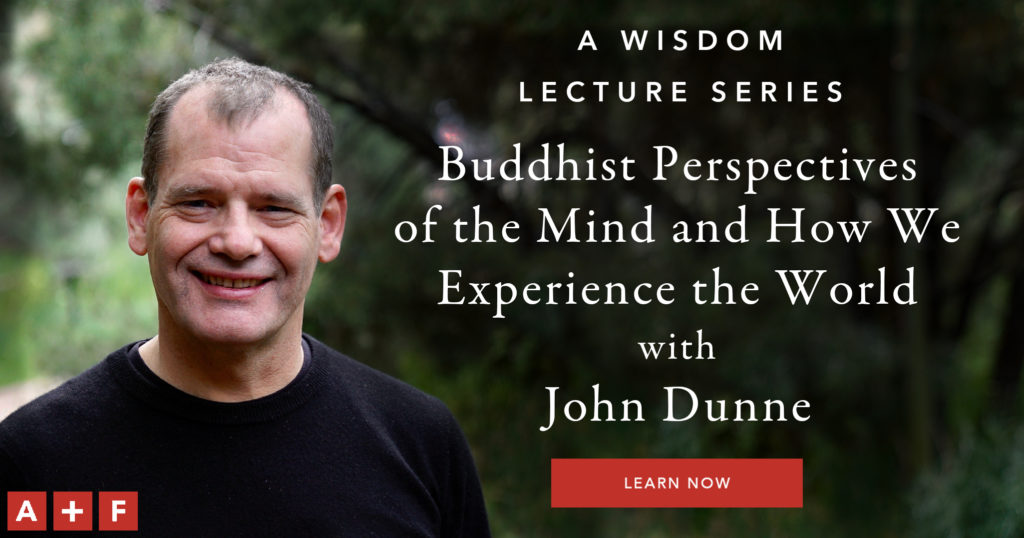 The last lecture in John Dunne's Wisdom Lecture Series, Buddhist Perspectives of the Mind and How We Experience the World, will be released on Monday, September 7. Be sure to join him as he takes you on a fascinating journey into Buddhism's extensive analysis of the mysteries of human consciousness and perception.
Focusing primarily on the Indo-Tibetan tradition of Mahayana philosophy, John explores how Buddhist philosophy describes the cognitive processes that give rise to our daily experience of life, and in the process uncovers the distortions and tendencies within them that keep us from seeing reality clearly. With his extensive knowledge and clear, engaging teaching style, John renders these ancient and sophisticated ideas into immediately useful wisdom, helping you to see consciousness for what it really is.
Lecture 1: The Intellectual Origins of Suffering
Lecture 2: Seeing Through Concepts and Categories
Lecture 3: Pramanas, or How We Know That We Know
Lecture 4: The Five Mental Functions
Lecture 5: Particulars and Universals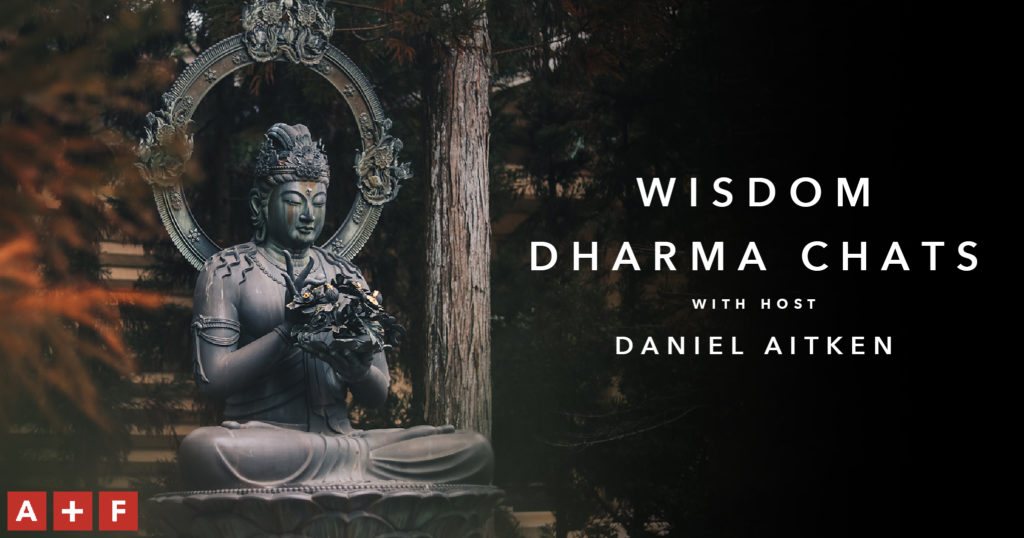 Watch the recordings of any of our August Wisdom Dharma Chats:
And be sure to join us in September each Wednesday night at 7:00 PM EST for the live Wisdom Dharma Chats. Click below to register.
September 9 – Vesna Wallace discusses the Kalachakra Tantra.
September 16 – Yongey Mingyur Rinpoche renowned Tibetan Buddhist teacher. Please note that this Wisdom Dharma Chat will take place at 10:00 AM EST.
September 23 – Ven. Bhikkhu Bodhi discusses his upcoming book and his work with the Buddhist Global Relief and Action Against Hunger.

September 30 – Koshin Paley Ellison discusses making all of life a place of practice.
This month we're making Infinite Potential available to watch for all our members. Learn more about it in the Free section above.

Discover all the books in our Reading Room under the "Explore" menu on our website. Books in our Reading Room are available exclusively for Plus and All-Access Members.
New To the Reading Room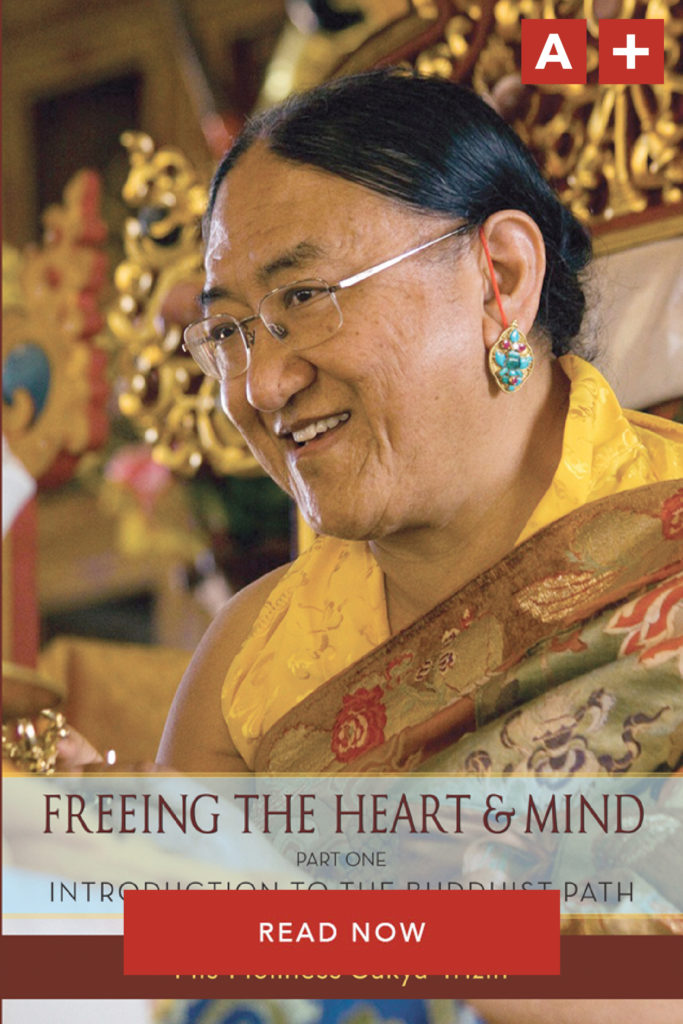 His Holiness the Sakya Trizin, the head of the glorious Sakya lineage, one of the four primary schools of Tibetan Buddhism, presents here the essential Buddhist teachings of the four noble truths, universal compassion, and the proper motivation for practice. This book opens by sharing a private teaching His Holiness gave to a young newcomer seeking to understand this great master's spiritual heritage. His Holiness's advice inspires us to integrate the living power of these teachings into our daily lives.
Full of timeless wisdom, Freeing the Heart and Mind contains, in addition to this introduction, an explanation of the teaching Matchless Compassion by the Indian saint Virupa, and a selection of commentaries on the essential teaching called Parting from the Four Attachments. Developed as the first volume in a course of study for students of the Sakya tradition, it nonetheless stands alone as an excellent entry into the teachings of the Buddha.
Also in Your Reading Room
New Releases
The following books were released in July or are available early on our website.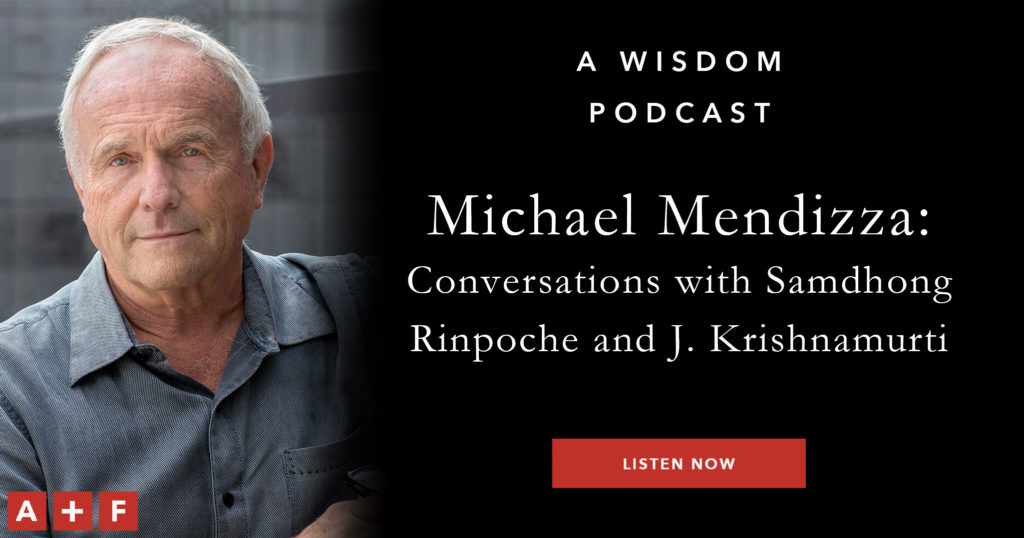 For this episode of the Wisdom Podcast, host Daniel Aitken speaks with Michael Mendizza, documentary filmmaker and author of Always Awakening: Buddha's Realization, Krishnamurti's Insight. In this fascinating conversation, you'll hear Michael share stories from his creative filmmaking journeys, and in particular the extremely rare opportunities he had of spending one-on-one time with two towering figures in the world of Buddhism and Eastern spirituality: Tibetan Buddhist master Samdhong Rinpoche and Indian spiritual philosopher J. Krishnamurti. In this conversation, you'll hear Michael and Daniel think through central questions relevant to the philosophy of these two spiritual giants: What is mindfulness and attention? What does it mean to be an observer? What's the difference between the relative and the absolute? Michael draws from knowledge gained having spent hours upon hours with both these teachers, and reads excerpts from Samdhong Rinpoche's responses to some of Krishnamurti's central philosophical concepts.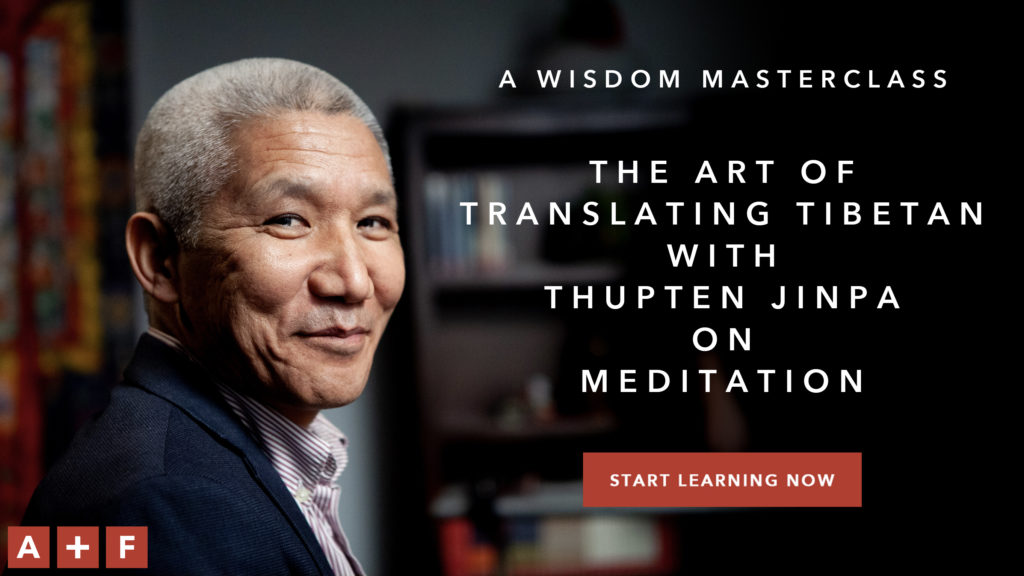 Join Thupten Jinpa for episodes 17 and 18 of the Wisdom Masterclass, The Art of Translating Tibetan with Thupten Jinpa, as he explores the term meditation.
Over the course of these two lessons he discusses
terminology specific to Buddhist meditation practice
nuance behind terms as they appear in Tibetan literature
the relationship of various terms to the actual practice of meditation
specific terms, including those relating to the faculties employed during meditation
and much more!
Watch the lessons now:
17. Translating Concepts and Terms: Meditation, Part 1
18. Translating Concepts and Terms: Meditation, Part 2
This Masterclass was made possible by the support of our friends at Tsadra Foundation.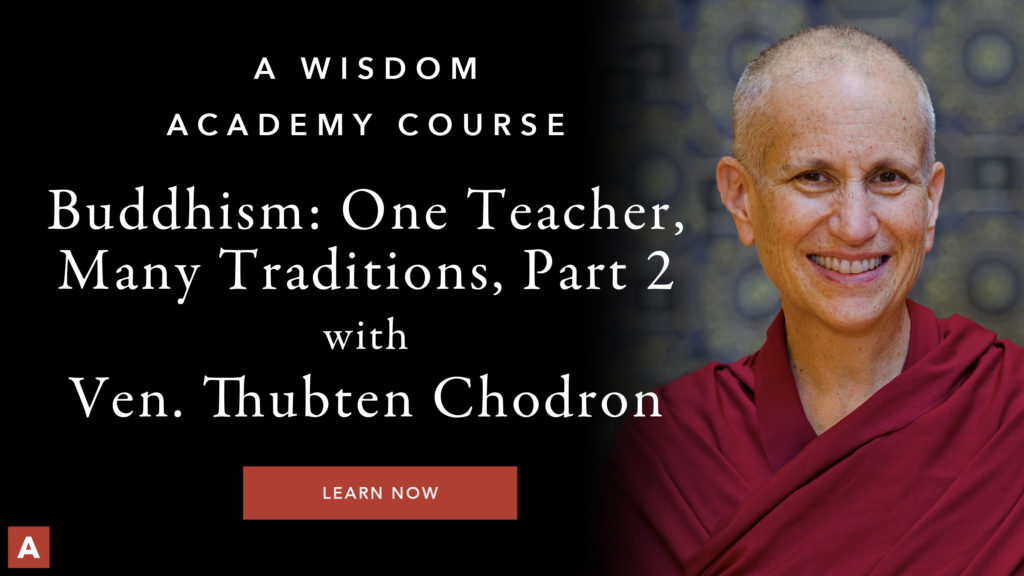 Buddhism is practiced by hundreds of millions of people worldwide, from Tibetan caves to Japanese temples to redwood retreats. All these traditions trace their beginnings to the teachings of one man in India 2,500 years ago. These teachings spread worldwide in all directions and into numerous languages, making Buddhism one of the today's most influential religions.
In Buddhism: One Teacher Many Traditions, Part 2 you'll join Venerable Thubten Chodron for an in-depth discussion of the core teachings of Buddhism, shared across traditions, such as mindfulness, emptiness, and dependent arising. Ven. Chodron's illuminating commentary on how each of these, and more, are approached within the many traditions of Buddhism forms the basis for your own exploration of Buddhism's shared heritage and diverse expression. There is no prerequisite to have taken the previous course; you can dive right in with the material covered in part 2.
This 10-lesson course is the second in a series based on Buddhism: One Teacher, Many Traditions, a book that Ven. Chodron cowrote with His Holiness the Dalai Lama. This book is an expression of His Holiness's strong belief in the merit of different Buddhist traditions learning more about one another. If you're a Plus or All-Access member, you can read it now here, in the Reading Room.
Part 1 of the course is also available to All-Access members of the Wisdom Experience.