Ailsa Cameron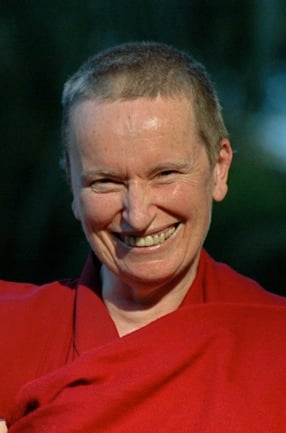 Ordained in 1987, Venerable Ailsa Cameron is a close student of Lama Zopa Rinpoche and has been editing his teachings since 1984. She lives at the Chenrezig Institute in Queensland, Australia.
Books, Courses & Podcasts
The Bliss of Inner Fire
In the classic bestseller, Introduction to Tantra, Lama Yeshe offered a profound and wonderfully clear glimpse into the sophisticated practices of Tibetan Buddhist tantra. This present book, the last major teachings of this great lama, opens up the world of advanced practices for Highest Yoga Tantra initiates in much the same way his earlier work opened up the world of tantra in general.
Following Je Tsongkhapa's (1357-1419 C.E.) text Having the Three Convictions, Lama Yeshe introduces the renowned Six Yogas of Naropa, focusing mainly on the first of these six, the practice of inner fire (tummo). Mastery of inner fire quickly brings the mind to its most refined and penetrating state—the experience of clear light, an extra-ordinarily powerful state of mind that is unequaled in its ability to directly realize ultimate reality.
Lama Yeshe felt that twentieth-century Westerners could easily grasp the often misunderstood ideas of this esoteric tradition: "We really need tantra these days because there is a tremendous explosion of delusion and distraction.and we need the atomic energy of inner fire to blast us out of our delusion."
Lama Yeshe's aim was for his students to actually taste the experience of inner fire rather than merely gain an intellectual understanding. Lama's own realization of the transformative power of these practices comes through, inspiring his students to discover for themselves their own capacity for inexhaustible bliss.
---
Read Tsongkhapa's biography at the Treasury of Lives.
Ultimate Healing
We experience illness on a physical level, but in order to be healed, we must understand where true healing begins: within our hearts and minds. In Ultimate Healing, internationally renowned meditation master Lama Zopa Rinpoche helps us to recognize the root of illness and gives us the tools to create our future happiness. Beginning with stories of people who have recovered from disease through meditation, Rinpoche addresses the central role played by karma and by the mental habit of "labeling" in causing illness, and shows how meditation and other thought techniques for developing compassion and insight can eliminate the ultimate cause of all disease.
Ultimate Healing shows us that by transforming our minds, especially through the development of compassion, we can eliminate the ultimate cause of all disease. In addition to relating stories of people who have recovered from disease through meditation, Lama Zopa presents practical healing meditations, including white-light healing, compassion meditation, "taking and giving", and techniques to cure depression.