Ajahn Amaro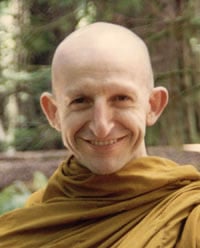 Ajahn Amaro is abbot of the Amaravati Buddhist Monastery in southeast England and author of numerous books and articles on Buddhist themes across traditions. Born in England in 1956, Ven. Amaro received his BSc. in Psychology and Physiology from the University of London. He studied Buddhism in Thailand in the Forest Tradition and was ordained as a bhikkhu by Thai meditation master Ajahn Chah at Wat Pah Nanachat in 1979. He returned to England and joined Ajahn Sumedho at the newly established Chithurst Monastery. He resided for many years at Amaravati Buddhist Monastery in England, and in 1996 he established Abhayagiri Monastery in Redwood Valley, California. He lived there until 2010, when he was called back to Amaravati to assume the duties of abbot. 
Books, Courses & Podcasts
Food for the Heart
Renowned for the beauty and simplicity of his teachings, Ajahn Chah was Thailand's best-known meditation teacher. His charisma and wisdom influenced many American and European seekers, and helped shape the American Vipassana community. This collection brings together for the first time Ajahn Chah's most powerful teachings, including those on meditation, liberation from suffering, calming the mind, enlightenment and the 'living dhamma'. Most of these talks have previously only been available in limited, private editions and the publication of Food for the Heart therefore represents a momentous occasion: the hugely increased accessibility of his words and wisdom. Western teachers such as Ram Dass and Jack Kornfield have extolled Chah's teachings for years and now readers can experience them directly in this book.
The Sound of Silence
The sound of silence is like a subtlety behind everything that you awaken to; you don't notice it if you're seeking the extremes. Yet as we start to become more poised, more present, fully receptive of all this moment has to offer, we start to experience it vividly and listening to it can draw us ever—deeper into the mysteries of now.
Always skillful and good humored, Ajahn Sumedho's teachings defy boundaries. Anyone—from laypeople looking to deepen their grasp of the Buddha's message, to lifetime Buddhist monastics—will appreciate the author's sparkling insights into to such key Buddhist themes as awareness, consciousness, identity, relief from suffering, and mindfulness of the body. The Sound of Silence represents the best of Ajahn Sumedho's masterful work to help us all see each life with a new and sustaining clarity.