Ajahn Chah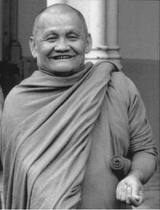 Ajahn Chah (1918–92) was part of a movement to establish simple monastic communities in the remote forests of Thailand. At this date over one hundred forest monasteries have been established that look to his teaching as their inspiration. Ajahn Chah's simple yet profound style of teaching has a special appeal to Westerners, and in 1979 the first of several branch monasteries in the West was established in England, and there are now more than ten monasteries in the United States, Europe, Australia, and New Zealand.
Books, Courses & Podcasts
Food for the Heart
Renowned for the beauty and simplicity of his teachings, Ajahn Chah was Thailand's best-known meditation teacher. His charisma and wisdom influenced many American and European seekers, and helped shape the American Vipassana community. This collection brings together for the first time Ajahn Chah's most powerful teachings, including those on meditation, liberation from suffering, calming the mind, enlightenment and the 'living dhamma'. Most of these talks have previously only been available in limited, private editions and the publication of Food for the Heart therefore represents a momentous occasion: the hugely increased accessibility of his words and wisdom. Western teachers such as Ram Dass and Jack Kornfield have extolled Chah's teachings for years and now readers can experience them directly in this book.