Boshan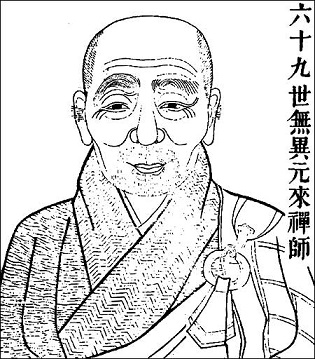 Boshan (1575-1630) was one of the leading Chinese masters of the Ming dynasty. Boshan, or Mount Bo, is the name of the mountain where he was active; like many masters, he became known as such. He is also known as Wuyi Yuanli and Dayi. Boshan hailed from Shucheng in present-day Anhui Province, west of Nanjing. He left home in his mid-teens, took up Buddhist study and practice, including five years of sustained meditative discipline, and received full ordination. Later he practiced under the Caodong (Japanese: Soto) master Wuming Huijing (1548-1618), a severe teacher who persistently rejected Boshan's intial insights. One day, while sitting intently in meditation on a rock, Boshan had a sudden realization when he heard a statue nearby fall with a crash. The following year he was greatly awakened when watching a person climb a tree. He was in his late-twenties at the time. Boshan received the Bodhisattva precepts before teaching at several monasteries, finally settling at Mount Bo in present-day Jiangxi Province, south of Anhui. He was one of Wuming Huijing's four Dharma heirs, and he himself left behind several Dharma heirs and lay disciples. He passed away in 1630. Image source.
Books, Courses & Podcasts
Great Doubt
"Great doubt and great faith are foundations of Zen practice. This great gift of a book provides essential checkpoints along the path." —Grace Schireson, author of Zen Women
"Upbeat, insightful, and inspiring teachings—a rich resource for all Buddhist practitioners." —Richard M. Jaffe, Duke University, author of Neither Monk nor Layman
"Boshan addresses the reader directly with vivid metaphors and stern (sometimes humorous) admonishments. He pulls no punches… These concise texts, not previously available in their entirety in English, offer classic wisdom for those exploring the Zen paths." —Publishers Weekly
"A classic Chinese text with clear—and inspiring—commentaries." —Thomas Yuho Kirchner, translator of Entangling Vines
Featured in Buddhadharma's Book Briefs, Fall 2016.