Charles Genoud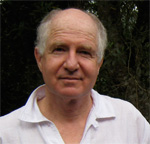 Charles Genoud has been a practitioner of Tibetan Buddhism since 1970. He began his studies in Dharamsala, in the School of Dialectics, and was student and translator for the Venerable Geshe Rabten for over ten years. While Charles studied and worked with him in Switzerland, Geshe Rabten taught all four schools of Buddhist philosophy, and he taught Madhyamika philosophy, the Six Perfections, and the Lamrim Chenmo of TsongkhapaLater, Charles Genoud went on to study closely with Dilgo Khyentse Rinpoche and other teachers in the Dzogchen tradition. Charles Genoud has also practiced Vipassana meditation in Burma and India. Charles Genoud is co-founder of the Vimalakirti Center for Meditation in Geneva, Switzerland. He conducts meditation retreats in the United States, Europe, Brazil, and the Middle East. He is also an assoicate teacher of Lama Surya Das of the Dzogchen Foundation. He lives in Geneva.
Books, Courses & Podcasts
Gesture of Awareness
From a major mind of Buddhism today comes this unique philosophical work, which hearkens back to the classical verse-form, but in a modern voice that speaks directly to the twenty-first century reader and practitioner.
Gesture of Awareness involves a fascinating philosophical exploration of time, space, and movement but at the same time is a manual for an embodied "practice of exploration."
Genoud is very well known to the leading lights of Buddhism today. He and his work are continuingly praised for their invention and importance. Well-versed in French and continental philosophies, as well as Eastern thought, he has produced a work that will be welcomed as a Buddhist book and a noteworthy contribution to the larger philosophical community.
Beyond Tranquility
Beyond Tranquility is an invitation to inner experience. In these pages, one of Buddhism's most respected scholar-sages creatively distills decades of practice, reflection, and teaching into essential truths. Touching on the full scope of core Buddhist philosophical and meditation traditions, Charles Genoud draws on ancient Buddhist suttas, masters like Nagarjuna and Dogen, and even seers and philosophers such as Eckhart, Nietzsche, and Sartre, as well as the great innovators of the modern novel and modern dance. Weaving together the wisdom of these great minds in a poetic style uniquely his own, Genoud invites you into the heart of Buddhist meditation and practice. Here, with the immediacy and wry humor of haiku, he proves an astute and subtle guide to the pitfalls and paradoxes that eventually confront every meditator, and to the most skillful ways through them.
Genoud's powerful, experiential language transmits the meditative experience rather than merely describing it—and his style will resonate with the teachings of Zen and Dzogchen, the writings of contemplative philosophers, and with dancers and other artists whose work is built upon a "body of presence."