Eihei Dōgen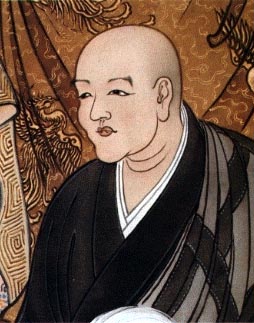 Eihei Dōgen founded the Japanese Sōtō School of Zen, and is renowned as one of the world's most remarkable religious thinkers. As Shakespeare does with English, Dōgen utterly transforms the language of Zen, using it in novel and extraordinarily beautiful ways in his voluminous writings. Born in 1200 to an aristocratic background, he was ordained a monk in the Japanese Tendai School in his early teens, but became dissatisfied with Japanese Buddhism. After traveling in China from 1223 to 1227, he returned to introduce to Japan the Sōtō lineage and the large body of Chan teaching stories, or koans, which he had thoroughly mastered. From 1233 to 1243 he taught near the cultural capital of Kyoto, then in 1243 moved to the remote northern mountains and founded the temple Eiheiji, still one of the headquarter temples of Sōtō Zen. There, until his illness and death in 1253, he trained a core group of monks who spread Sōtō Zen throughout the Japanese countryside. Dōgen's writings are noted for their poetic and philosophic depth, though aimed at spiritual practitioners. His two major, massive works are Shōbōgenzō (True Dharma Eye Treasury) and Eihei Kōroku (Dōgen's Extensive Record). Although not studied for many centuries aside from Sōtō scholars, in modern times Dōgen's writings, through translation, have become an important part of the spread of Buddhism in the West.
Books, Courses & Podcasts
How to Raise an Ox
The writings of Zen master Dōgen are among the highest achievements not only of Japanese literature but of world literature. Dōgen's writings are a near-perfect expression of truth, beautifully expressing the best of which the human race is capable. In this volume, Francis Cook presents ten selections from Dōgen's masterwork, the Shobogenzo, as well as six of his own essays brilliantly illuminating the mind of this peerless master.
Dōgen's Extensive Record
Eihei Dōgen, the thirteenth-century Zen master who founded the Japanese Sōtō School of Zen, is renowned as one of the world's most remarkable religious thinkers. As Shakespeare does with English, Dōgen utterly transforms the language of Zen, using it in novel and extraordinarily beautiful ways to point to everything important in the religious life.
He is known for two major works. The first work, the massive Shōbōgenzō (Treasury of the True Dharma Eye), represents his early teachings and exists in myriad English translations; the second work, the Eihei Koroku, is a collection of all his later teachings, including short formal discourses to the monks training at his temple, longer informal talks, and koans with his commentaries, as well as short appreciatory verses on various topics. The Shōbōgenzō has received enormous attention in Western Zen and Western Zen literature, and with the publication of this watershed volume, the Eihei Koroku will surely rise to commensurate stature.
Dōgen's Extensive Record is the first-ever complete and scholarly translation of this monumental work into English and this edition is the first time it has been available in paperback. This edition contains extensive and detailed research and annotation by scholars, translators and Zen teachers Taigen Dan Leighton and Shohaku Okumura, as well as forewords by the eighteenth-century poet-monk Ryokan and Tenshin Reb Anderson, former abbot of the San Francisco Zen Center—plus introductory essays from Dogen scholar Steven Heine, and the prominent, late American Zen master John Daido Loori.
Please click here for the paperback version. Download the index from this new edition by clicking on "Download PDF Preview" below.
Dogen's Shōbōgenzō Zuimonki
Discover the teachings of the preeminent Zen Master Dōgen in his own words, written down by his Dharma successor, Koun Ejō. This edition includes both the Shōbōgenzō Zuimonki and translations of and commentary on Dōgen's luminously evocative waka poetry. 
Distinct from Dōgen's similarly titled magnum opus (simply called the Shōbōgenzō), the Shōbōgenzō Zuimonki can be read as a highly practical manual of Buddhist practice. Consisting of straightforward and accessible teachings and making more limited use of the allusion, wordplay, and metaphor that characterize the essays in the Shōbōgenzō, this work is an essential read for any student of Zen Buddhism. Among the many topics covered, Dōgen especially emphasizes the following points: seeing impermanence, departing from the ego-centered self, being free from greed, giving up self-attachment, following the guidance of a true teacher, and the practice of zazen, specifically shikantaza, or "just sitting." Additionally, this translation of the Shōbōgenzō Zuimonki has extensive notes, which help to provide you with a new way of approaching the text. 
The collection of waka poems included in this volume are a beautiful artistic expression of the Dharma. Rarely seen in this large of a collection or with commentary, this poetry offers unique insight into an important expression of Dōgen's teachings. 
By the spring wind
my words are blown and scattered
people may see them
the song of flowers
These teachings, which have informed teachers and practitioners alike throughout the centuries, will deepen your knowledge, understanding, and experience of the Sōtō Zen tradition.