Gyatrul Rinpoche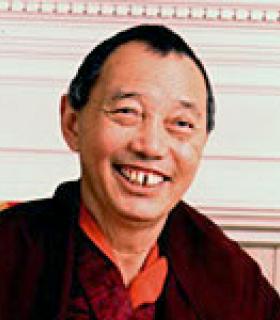 Venerable Gyatrul Rinpoche was born in 1924 in China near the Tibetan border. At the age of seven he was recognized to be a reincarnate tulku and trained at Payul Dhomang Monastery in eastern Tibet. Rinpoche spent many years in solitary retreat before fleeing the Communist invasion of Tibet in 1959. After living in India for twelve years, Rinpoche moved to America and in 1976 was appointed as H.H. Dudjom Rinpoche's spiritual representative in America. Rinpoche has founded many Buddhist centers, including Tashi Choling in Oregon, Orgyen Dorje Den in the San Francisco Bay area, Norbu Ling in Texas, Namdroling in Montana, and a center in Ensenada, Mexico.
Books, Courses & Podcasts
Natural Liberation
In life and in death, in meditation and in sleep, every transitional stage of consciousness, or bardo, provides an opportunity to overcome limitations, frustrations, and fears. The profound teachings in this book provide the understanding and instruction necessary to turn every phase of life into an opportunity for uncontrived, natural liberation.
Like the Tibetan Book of the Dead, Natural Liberation is a terma, a "hidden treasure" attributed to the eighth-century master Padmasambhava. Gyatrul Rinpoche's lucid commentary accompanies the text, illuminating the path of awakening to the point of full enlightenment. Natural Liberation is an essential contribution to the library of both scholars and practitioners of Tibetan Buddhism.