His Eminence Zurmang Gharwang Rinpoche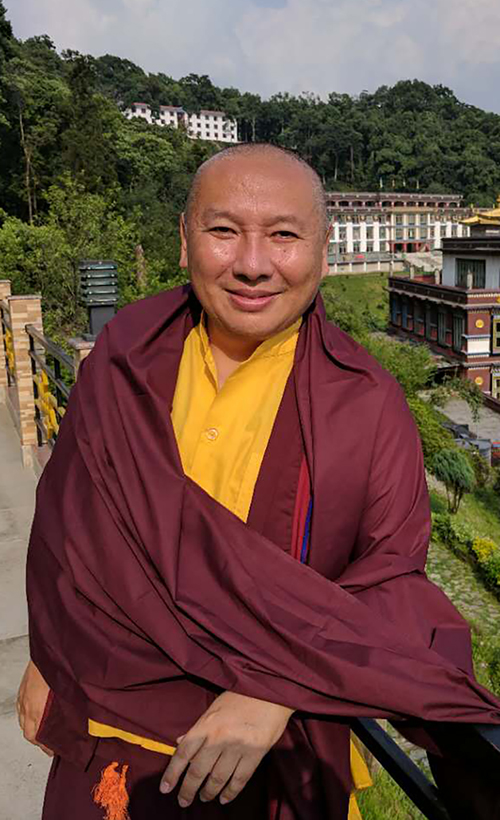 His Eminence Zurmang Gharwang Rinpoche was born a son of the Sikkimese Royal Court and was recognized by His Holiness the Sixteenth Karmapa as the twelfth incarnation of the Gharwang Tulku. Rinpoche is the supreme lineage holder of the Whispered Lineage of the Zurmang Kagyu tradition. He teaches around the world. As head of the Zurmang Kagyu School of Tibetan Buddhism, Rinpoche is the spiritual head of thirteen monasteries and one nunnery in Tibet, as well as monasteries and nunneries in India, Nepal, and Bhutan. Rinpoche oversees the spiritual education of the four thousand monks and nuns and approximately fifty thousand followers in the Zurmang Kagyu tradition worldwide.
Books, Courses & Podcasts
Mahāmudrā
"Gharwang Rinpoche's work serves as a definitive manual, guiding aspiring mahāmudrā students along the complete path, beginning with a clear presentation of the preliminaries, through a detailed presentation of śamatha and vipaśyanā, and concluding with enlightening instructions on the actualization of the result."
—from the foreword by His Holiness the Sakya Trichen
In this book, His Eminence the Twelfth Zurmang Gharwang Rinpoche offers illuminating commentary on Bokar Rinpoche's pithy teaching A Concise Commentary on the Ocean of Definitive Meaning, expanding and unlocking it for the reader, showing us the way to understand the very nature of our own minds. 
"The line between saṃsāra and nirvāṇa is very thin. This is because saṃsāra is simply the projection of our minds, a projection created by confusion. Nirvāṇa is simply freedom from this confusion. You can sit on either side of the line between saṃsāra and nirvāṇa. It's up to you. But although the line is very thin, it takes extraordinary skill and profound wisdom to traverse the path from one side to the other—to dissolve the division itself. This book and these teachings are intended to serve as support for that journey."
—from H.E. Zurmang Gharwang Rinpoche's introduction