Ivette Salom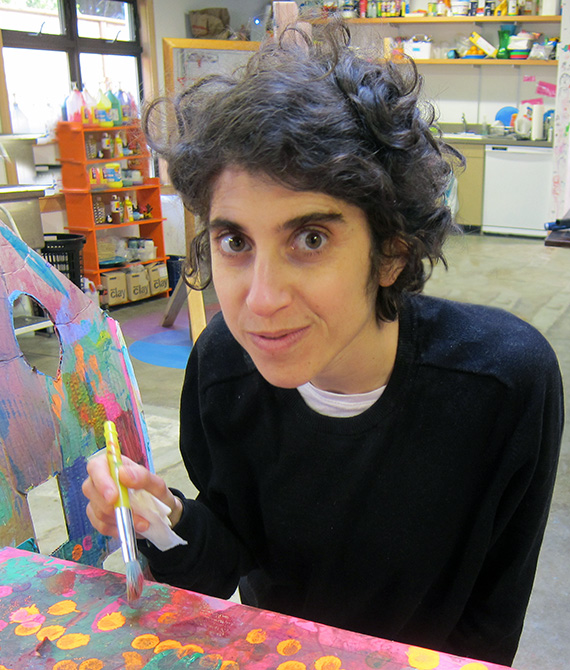 Ivette Salom is a children's book author and illustrator. In recent years she illustrated When the Anger Ogre Visits and Flow, Flow, Flow (Wisdom Publications). She is currently working on new books that bring to life snails, empanadas, and coyotes. She lives in Portland, Oregon with her family and 15,000 crows.
Books, Courses & Podcasts
When the Anger Ogre Visits
When the Anger Ogre Visits gives children symbolic and concrete guidance about how to deal with anger as a natural part of their inner lives. Rather than squelching anger or pushing it away, the book invites children to sit with and observe anger, removing its overwhelming aspects. This playfully illustrated story, written in memorable rhyme, centers on discovering and using internal resources and portrays anger as manageable.
My New Best Friend
"I have a new best friend. I've known her my whole life, but we only just became friends."
When people we care about are having a hard time, we usually treat them with kindness and understanding—yet when we are the ones having a hard time, we are often quick to be unkind. We may get angry and impatient with ourselves, even calling ourselves nasty names. My New Best Friend invites children to break free of this pattern of "inner bullying," helping them treat themselves with kindness and understanding—laying the groundwork for emotional resilience, self-compassion, and positive self-esteem.
"This is an absolutely delightful book that perfectly delivers the message of self-compassion in a way that is fun and easy to understand for kids. Parents who buy this book for their children will be giving them a gift to last a lifetime!"
—Kristin Neff, Ph.D, author of Self-Compassion: The Proven Power of Being Kind to Yourself
Flow, Flow, Flow
Enjoy things with pleasure and do let them go,
And grow into life—let it flow, flow, flow, flow.
Four children set off on a magical voyage of imagination. Along the way, to no destination in particular, they meet walrus ice cream vendors, lemurs and tigers living in harmony, helpful octopi and more. As the scenery changes, our travelers learn to go with the flow, welcoming each new experience for what it is in the moment, and accepting when those experiences drift away, to be replaced with a whole new adventure.
Children (and adults) will get lost in the detailed and whimsical illustrations, discovering something new each time they read this book. As the characters experience constantly changing settings, readers will begin to better understand the impermanence of life, and how wondrous it can be.