Janet Gyatso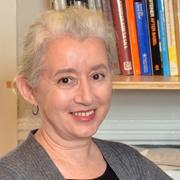 Janet Gyatso is a specialist in Buddhist studies with concentration on Tibetan and South Asian cultural history and the Hershey Professor of Buddhist Studies at Harvard University. Gyatso was president of the International Association of Tibetan Studies from 2000 to 2006, and co-chair of the Buddhism Section of the American Academy of Religion from 2004 to 2010. She teaches lecture courses and advanced seminars on Buddhist history, ritual, and ideas, and on Tibetan literary practices and religious history. In both teaching and writing she draws on cultural and literary theory, and endeavors to widen the spectrum of intellectual resources for the understanding of Buddhist and Tibetan history. She is the faculty director of the Harvard Buddhist Studies Forum. She is also a member of the Faculty of Arts and Sciences' Committee on the Study of Religion, Department of East Asian Languages and Civilizations, and Committee on Inner Asian and Altaic Studies. She will chair the Committee on Women, Sexuality, and Gender in Religion at the Divinity School in 2012 and is involved in the development of a new track for the training of Buddhist lay ministers and leaders in the master of divinity program. Gyatso taught at Amherst College before coming to Harvard as the Divinity School's first Hershey Professor of Buddhist Studies.
Books, Courses & Podcasts
The Lives and Liberation of Princess Mandarava
This lucid translation of a rare Tibetan text makes available for the first time to Western readers the remarkable life story of Princess Madarava. As the principal consort of the eighth century Indian master Padmasambhava before he introduced tantric Buddhism to Tibet, Mandarava is the Indian counterpart of the Tibetan consort Yeshe Tsogyal. Lives and Liberation recounts her struggles and triumphs as a Buddhist adept throughout her many lives and is an authentic deliverance story of a female Buddhist master. Those who read this book will gain inspiration and encouragement on the path to liberation.
---
Learn more about Princess Mandarava at the Treasury of Lives.