Jisho Warner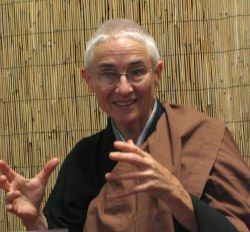 Jishō Warner is a Soto Zen priest and guiding teacher of Stone Creek Zen Center in Sonoma County, California, which she founded. A former president of the Soto Zen Buddhist Association, Warner trained for many years both in Japan and the United States. Having graduated from Harvard University in 1965, she was also a longtime student of Dainin Katagiri. She is also a co-editor of the book Opening the Hand of Thought by Kosho Uchiyama, whose teachings she encountered during the 1980s while practicing at the Pioneer Valley Zendo. She had also practiced for many years at the Milwaukee Zen Center under Tozen Akiyama (from whom she received shiho).
Books, Courses & Podcasts
Opening the Hand of Thought
For over thirty years, Opening the Hand of Thought has offered an introduction to Zen Buddhism and meditation unmatched in clarity and power. This is the revised edition of Kosho Uchiyama's singularly incisive classic.
This new edition contains even more useful material: new prefaces, an index, and extended endnotes, in addition to a revised glossary. As Jisho Warner writes in her preface, Opening the Hand of Thought "goes directly to the heart of Zen practice. . . showing how Zen Buddhism can be a deep and life-sustaining activity." She goes on to say, "Uchiyama looks at what a person is, what a self is, how to develop a true self not separate from all things, one that can settle in peace in the midst of life."
By turns humorous, philosophical, and personal, Opening the Hand of Thought is above all a great book for the Buddhist practitioner. It's a perfect follow-up for the reader who has read Zen Meditation in Plain English and is especially useful for those who have not yet encountered a Zen teacher.