Khenpo Sherap Phüntsok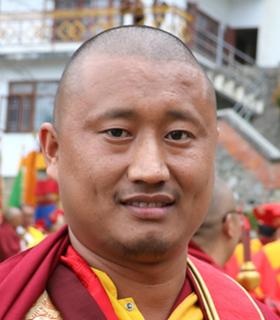 Khenpo Sherap Phüntsok met Kyabjé Thrangu Rinpoche as a young boy and became a monk at Thrangu Rinpoche's monastery. There he studied all aspects of ritual practice at the monastery and became a chant master. At the age of sixteen he entered Thrangu Rinpoche's monastic college in Namo Buddha, Nepal, where he studied the curriculum of the Kagyü tradition. At the age of twenty-one, he was made an assistant teacher in 2001 by Kyabjé Thrangu Rinpoche and was awarded the title of Khenpo in 2003. In 2005, the Seventeenth Karmapa Ogyen Trinley Dorje appointed Khenpo Sherap junior chant master for the Great Kagyü Mönlam, a position he has kept until now.
Image courtesy of Vajra Vidya Institute.
Books, Courses & Podcasts
The Karmapas and Their Mahamudra Forefathers
"I believe the life a lama lives is the greatest instruction to the students who follow him or her. It is an instruction we can actually see. The lama's deeds display the Dharma in action for us. They can instruct our hearts with the fullness of lived experience. In the lama's actions we can observe how the mind turns to Dharma, and how that Dharma becomes a path. We can watch how the path eliminates confusion, and how confusion arises as wisdom."– H.H. the Seventeenth Karmapa
The Karmapas and Their Mahamudra Forefathers collects fascinating accounts of the lives of the Karmapas and of their forefathers in the Mahamudra practice lineage. Each story is accompanied by a beautiful, full-color illustration of its subject in the lineage, as depicted in a traditional style of Eastern Tibet used at the renowned Thrangu Tashi Yangtse Monastery in Nepal.