Kosho Uchiyama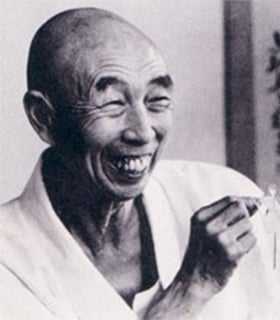 Kosho Uchiyama was a preeminent Japanese Zen master, instrumental in bringing Zen to America. The author of over twenty books, including Refining Your Life, he died in 1999.
Books, Courses & Podcasts
Opening the Hand of Thought
For over thirty years, Opening the Hand of Thought has offered an introduction to Zen Buddhism and meditation unmatched in clarity and power. This is the revised edition of Kosho Uchiyama's singularly incisive classic.
This new edition contains even more useful material: new prefaces, an index, and extended endnotes, in addition to a revised glossary. As Jisho Warner writes in her preface, Opening the Hand of Thought "goes directly to the heart of Zen practice. . . showing how Zen Buddhism can be a deep and life-sustaining activity." She goes on to say, "Uchiyama looks at what a person is, what a self is, how to develop a true self not separate from all things, one that can settle in peace in the midst of life."
By turns humorous, philosophical, and personal, Opening the Hand of Thought is above all a great book for the Buddhist practitioner. It's a perfect follow-up for the reader who has read Zen Meditation in Plain English and is especially useful for those who have not yet encountered a Zen teacher.
The Zen Teaching of Homeless Kodo
Eschewing the entrapments of vanity, power, and money, Kodo Sawaki Roshi lived a traveling and "homeless" life, going from temple to temple, student to student, teaching and instructing and never allowing himself to stray from his chosen path. Always clear, often funny, he jolts us into awakening.
Kosho Uchiyama expands and explains his teacher's wisdom with his commentary, drawing parallels between Zen teachings and Western philosophy. Shohaku Okumura adds his own insight, grounding his teachers' power and sagacity for the contemporary practitioner. Through this book, experience the timeless, practical wisdom of three generations of Zen masters.