Lati Rinpoche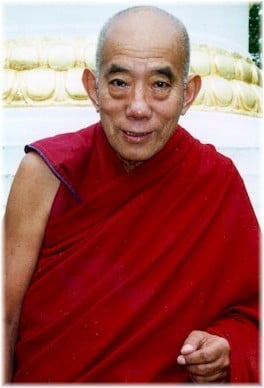 Born in the Kham region of Eastern Tibet in 1922, Lati Rinpoche was identified as the reincarnation of a great practitioner by Gongkar Rinpoche and entered monastic life at the age of ten. At the age of fifteen, he enrolled in Ganden Shartse Norling College and in 1959, he attained the rank of Geshe Lharampa. In 1960, Lati Rinpoche joined the tantric college in Lhasa and started intensive study in tantra. In 1964, Lati Rinpoche left Tibet to join the His Holiness the Dalai Lama in exile. On arrival in Dharamsala, he was appointed as a spiritual advisor to His Holiness. From 1976, Lati Rinpoche taught at Namgyal Monastery in Dharamsala, and in the same year, he was appointed abbot of the Ganden Shartse Norling College in exile. The author of several books published in Engilsh, he taught frequently to international audiences worldwide. He passed away in 2010.
Books, Courses & Podcasts
Meditative States in Tibetan Buddhism
From two great masters comes a detailed description of meditative practices for developing a mind that is alert, powerful, and capable of gaining great insight. Discussing step-by-step the practice of meditation itself, they provide us with practical antidotes to the various obstacles that may arise in meditation. At the same time, they intersperse their presentations with captivating descriptions of the sometimes fantastic and astonishing cosmology that provides the background and context for Buddhist practice.