Lobsang Rapgay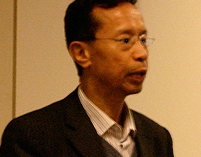 Lobsang Rapgay, PhD, is Director of UCLA's Classical Mindfulness-based Integrative Cognitive Behavioral Therapy for Anxiety and Anxiety-related Psychosomatic Disorders program.
Books, Courses & Podcasts
Real Meditation in Minutes a Day
As seen in Newsweek.
Got a few minutes? You can:
Reduce your stress, even when under pressure

Sleep better

Get re-energized

Think more clearly, and more creatively

Reconnect with the people who count on you

Learn to recognize and encourage the best in yourself
You know that meditation would probably be good for you, just like you know that you should floss your teeth. First, though, you need the motivation to make it happen. This book, with its jargon—free tone and incredibly simple exercises-little but effective things you can do in just a minute at work, in the car, wherever-will make you want to meditate. You'll realize: it's just a good thing to do. Like flossing—only for your mind.
Real Meditation in Minutes a Day is an easygoing, always-encouraging mental workout buddy, ready to teach and train you. Throughout the book, composite everypersons "Maria" and "Brian" recount their efforts, reinforcing the basics, answering FAQs, and removing common obstacles and quandaries.
With its clear language and exercises that even the busiest of us can find time for, Real Meditation in Minutes a Day can help anyone to make meditation's very real benefits part of everyday life.