Lorne Ladner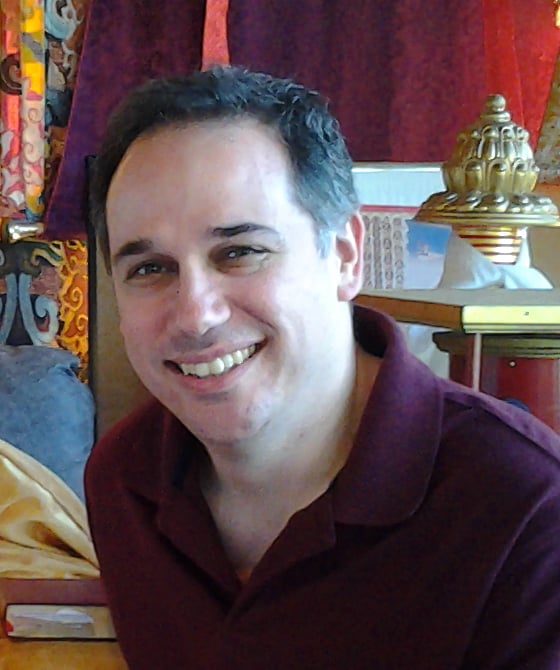 Lorne Ladner, PhD, is a clinical psychologist in private practice in the suburbs of Washington DC, where he also directs and teaches at the Guhyasamaja Buddhist Center. Dr. Ladner has produced a training video on Mindful Therapy and provides workshops on the psychology of positive emotions, the integration of meditation and sychotherapy, and on Buddhist psychology. He is the author of The Lost Art of Compassion: Discovering the Practice of Happiness in the Meeting of Buddhism and Psychology (HarperOne 2004).
Books, Courses & Podcasts
Wheel of Great Compassion
The Wheel of Great Compassion is the first book to provide Western readers with a complete understanding of the prayer wheel—an ancient and mystical practice that has long been popular with Buddhists throughout Tibet and Mongolia for its ability to bless the environment, promote healing, increase compassion, and assist practitioners on their journeys to enlightenment.
This book offers a clear description of prayer wheel practice, its meaning and benefits, and its role as an essential ritual and symbol of Tibetan Buddhism. It contains a general introduction to the prayer wheel, photographs and illustrations, six commentaries by Tibetan lamas (including Lama Zopa Rinpoche), and instructions for both prayer wheel construction and proper use.
The Easy Path
The First Panchen Lama's Easy Path (de lam), written nearly four hundred years ago, is like a chest of jewels that has, until now, been locked to English speakers. This translation, with Gyumed Khensur Lobsang Jampa's commentary, unlocks that chest and holds each jewel up to the sunlight to reveal its great beauty and value.
A number of books in the past have explained how to meditate on the stages of the path, but Geshe Lobsang Jampa's volume is unique in showing the reader how to integrate visualizations from highest yoga tantra, guru yoga, and the instructions of the oral tradition within the contemplations of every single stage. From the initial meditations on the precariousness and immense value of human existence, through the contemplations of how we perpetuate the cycle of suffering, to the highest teachings on the practice of universal compassion and the empty nature of phenomena, The Easy Path leads practitioners step by step through the journey to enlightenment.