Matthew Bortolin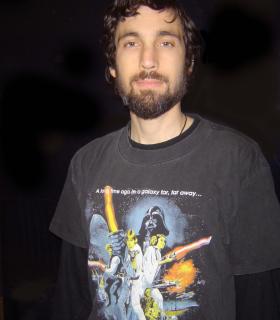 Matthew Bortolin has camped out for tickets to all the Star Wars movies, and a set of Jedi robes hangs in his closet. He is an ordained member of Thich Nhat Hanh's Order of Interbeing, and has lived in Buddhist monasteries both in the United States and abroad. He lives in Ventura, California.
Books, Courses & Podcasts
The Dharma of Star Wars
"What is the Dharma? And what in Sith spit does it have to do with Star Wars? Well, if you're like me, it has everything to do with that glorious galaxy far, far away…"
Here, the modern space saga and the ancient words of the Buddha illuminate each other in playful and unexpectedly rewarding ways, answering questions such as
Is Yoda a Zen Master?
Do Jedis practice mindfulness?
Did attachment cause Darth Vader's turn to the Dark Side?
Covering everything from A New Hope to The Clone Wars, this revised and expanded edition provides a unique take on the intergalactic epic and an inspiring introduction to Buddhism.
The Zen of R2-D2
Did you ever wonder why R2-D2 is
always calm and cool under pressure,

the key to the rebellion's survival, and

the one who never fails to save the day?
Could it be because he's secretly a Zen master?
Discover your inner R2—and the truth about who you really are! 
This delightful and illuminating romp unfolds in the form of a fictional dialogue between the author—a die-hard Star Wars devotee with a deep connection to Zen—and two cosplayers dressed as C-3PO and R2-D2 who insist on being called by their character names. Along the way, you'll come to see what everyone's favorite astromech can teach us about peace, happiness, and life's true meaning.