Nyogen Senzaki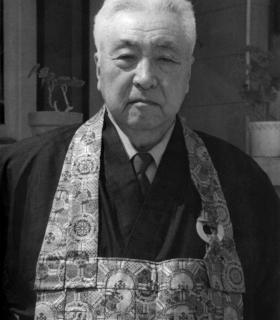 Nyogen Senzaki, a colleague of Dr. D.T. Suzuki, was one of the first Zen masters to come from Japan to the United States. He founded the first Zen organizations in the new world, in California. He died in 1958.
Books, Courses & Podcasts
Like A Dream, Like a Fantasy
Just as D.T. Suzuki introduced the West to Zen philosophy, Nyogen Senzaki helped introduce it to Zen practice, becoming the first great Japanese meditation master to fully immerse himself in the everyday life of America. Like a Dream, Like a Fantasy collects many of his talks, essays, and poetry into one fascinating volume that offers an intimate, in-depth look at one ofWestern Zen's earliest pioneers.
Eloquent Silence
The most comprehensive collection available of Nyogen Senzaki's brilliant teachings, Eloquent Silence brings new depth and breadth to our knowledge and appreciation of this historic figure. It makes available for the first time his complete commentaries on the Gateless Gate, one of the most important and beloved of all Zen texts, as well as on koans from the Blue Rock Annals and the Book of Equanimity. Amazingly, some of these commentaries were written while Senzaki was detained at an internment camp during WWII. Also included are rare photographs, poems reproduced in Senzaki's beautiful calligraphy and accompanied by his own translations, and transcriptions of his talks on Zen, esoteric Buddhism, the Lotus Sutra, what it means to be a Buddhist monk, and other subjects. Roko Sherry Chayat has edited Nyogen Senzaki's words with sensitivity and grace, retaining his wry, probing style yet bringing clarity and accessibility to these remarkably contemporary teachings.