Ross Bolleter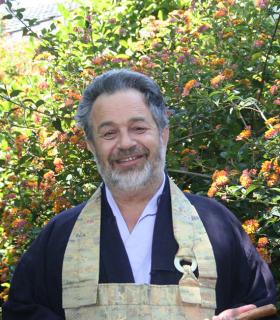 Ross Bolleter is a Zen teacher in the Diamond Sangha tradition. He trained with Robert Aitken and John Tarrant, and received Transmission from them in 1997. Ross Bolleter teaches in Australia and New Zealand. He is a composer with numerous CD releases, especially in the field of ruined piano. His book of poems, Piano Hill, was published n 2009, and was the subject of a television documentary aired in Australia and New Zealand.
Books, Courses & Podcasts
Dongshan's Five Ranks
The first in-depth English commentary on the Five Ranks—a core text of the Zen tradition that teaches what can't be taught—which contains new translations of all of the key texts of the Five Ranks cycle.
We imagine ourselves and the universe to be distinct, but within us glimmers the suspicion that we are in fact intimately connected and inseparable from all that there is. The dawning and expansion of such awareness is called enlightenment. In his masterwork—a suite of dialectical works known collectively as the Five Ranks—Dongshan, a Zen master of Old China, approaches enlightenment from five angles, using paradox and poetry to lay out a multifaceted path whereby we might discover enlightenment within this very moment.
Ross Bolleter Roshi assembles and provides commentary on all of the core texts of the Five Ranks, including the precursors that inspired it and works inspired by it. Approaching the Five Ranks from a rich and sophisticated koan perspective, Bolleter Roshi augments his explanations of the works with liberal doses of humor and storytelling, bringing this esteemed classic to life. Each part of the Five Ranks focuses differently on the relationship between the timeless realm of our essential natures and the contingent realm of life and death. They encourage us to transcend naive individualism and to bring our best qualities of compassion and wisdom intimately into our daily lives. In this regard, Dongshan's Five Ranks lays out the path that every student of the Way must traverse on the journey to becoming a teacher.
The Crow Flies Backwards and Other New Zen Koans
Traditionally, Zen koans—the teaching stories of Zen—are drawn from the words and teachings of ancient masters and primarily address the concerns of (male) monastic practitioners. In The Crow Flies Backwards, Ross Bolleter changes all at. The 108 modern koans offered within address sexuality and childbirth, family, parenthood, work, money and even the nature time itself. These koans are drawn from a variety of modern sources: Western philosophy, the Bible, contemporary and classic literature from Proust to Lewis Carroll and Mary Oliver and Anne Carson, as well as stories provided by author's encounters with his Zen students.
Bolleter's commentaries provide guidance to the reader on how to engage with each koan and koans in general, and direct guidance in to meditate with koans. An appendix offers rarely-seen intimate and in-depth accounts of the process of koan introspection, from four of the author's senior students.