Sekkei Harada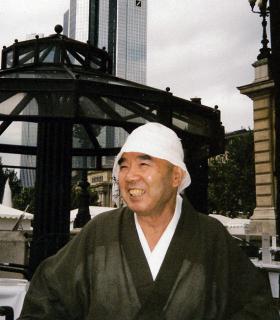 Sekkei Harada was the abbot of Hosshinji, a Soto Zen training monastery and temple, in Fukui Prefecture, near the coast of central Japan. He was born in 1926 in Okazaki, near Nagoya, and was ordained at Hosshinji in 1951. In 1953, he went to Hamamatsu to practice under Zen Master Gien Inoue, and received inkashomei (certification of realization) in 1957. In 1974, he was installed as resident priest and abbot of Hosshinji and was formally recognized by the Soto Zen sect as a certified Zen master (shike) in 1976. From 1982, Harada traveled abroad frequently, teaching in such countries as Germany, France, the United States, and India. He also lead zazen groups within Japan, in Tokyo and Saitama. From 2003-2005, he was Director of the Soto Zen Buddhism Europe Office located in Milan.
Books, Courses & Podcasts
The Essence of Zen
The Essence of Zen is an expert's guided tour of the ins and outs of the tradition's approach to meditation, enlightenment, and the oneness of all things. To read it is to enter into one of modern Japanese Zen's most subtle and sophisticated minds.
Sekkei Harada skillfully pushes us to drop those parts of ourselves that grasp and make demands regarding our understanding or progress in meditation practice. He enables us to see clearly-and steer clear of-the philosophical stumbling blocks that can make the path precarious.
The Essence of Zen represents the most succinct of his teachings, making it of immediate value to anyone with an interest in Zen. The book also contains Harada's explanations of the differences between the tradition's primary schools, making it particularly helpful to newcomers.
Unfathomable Depths
Unfathomable Depths presents a concise treatment of Sōtō theory and practice, while delivering approachable advice from Sekkei Harada, one of Zen's most esteemed teachers. Rooting himself in Tong'an Changcha's classical and enigmatic poem, "Ten Verses of Unfathomable Depth," Harada intimately speaks to the world of Zen today, answering some of our most pressing questions:
What is the true nature and function of Dharma transmission?
How do I appropriately practice with koans?
How do I understand the "just sitting" of Sōtō Zen?