Shudo Brian Schroeder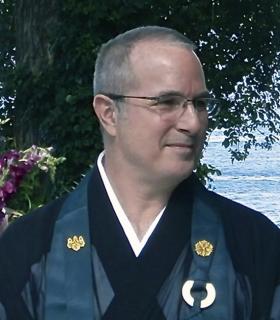 Shudo Brian Schroeder is a priest in the Soto Zen lineage of Yashiki Chijo, abbot of Yokoji (Ishikawa Prefecture, Japan), and Professor of Philosophy and director of Religious Studies at the Rochester Institute of Technology (RIT). He has published numerous books and articles on Continental philosophy, Buddhist philosophy, the history of philosophy, environmental philosophy, and philosophical theology. He is director of the Idunno Zen Buddhist Community at RIT, a founding member of CoZen, and an active member of the Rochester Zen Center. He is also co-director of the Society for Phenomenology and Existential Philosophy and past co-director of the International Association for Enviromental Philosophy. He holds a Ph.D. in Philosophy from Stony Brook University and a M.Div. from the Princeton Theological Seminary. He lives in Rochester, NY.
Books, Courses & Podcasts
Engaging Dogen's Zen
Engaging Dōgen's Zen is a practice-oriented study of Shushogi (a canonical distillation of Dōgen's thought used as a primer in the Sōtō School of Zen) and Fukanzazengi (Dōgen's essential text on the practice of "just sitting," a text recited daily in the Sōtō School of Zen). It is also a study of the entire self. Here, the principles of Sōtō Zen practice are unpacked and explained by leading contemporary Buddhists from the living tradition—monks, priests, academics, and community teachers. Tackling Dōgen's approach to key issues, such as the preeminence of shikantaza, universal buddha nature, and what it means to be a Mahāyāna Buddhist, the contributors to the volume help Zen practitioners and any who are trying to deepen their lives to appreciate better the teachings of Sōtō Zen and make these teachings part of their lives. By revisiting what remains precious in Shushogi and Fukanzazengi, we let them breathe just as we learn to breathe in zazen. We find that Sōtō practice not only engages Dōgen and Sakyamuni, but all of our sisters and brothers, and indeed the great earth itself.