Tenzin Norbu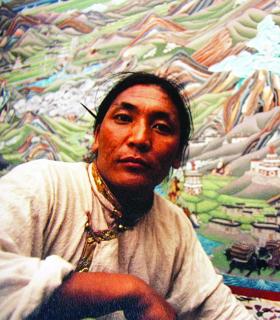 Tenzin Norbu was born in Dolpo, a rugged region of Nepal on the Tibetan border, and hails from a lineage of painters dating back more than four hundred years. He mixes the tangka genre with creative and novel images of the Himalayan and Tibetan landscapes. The illustrator of four children's books, his work has appeared in National Geographic and the feature film Himalaya and is part of private collections such as that of Leila Hadley Luce. His work has also been featured in major exhibitions in Paris and New York. A resident of Kathmandu, he returns for several months each year to Dolpo, where he plays an active role in the change and continuity of village life.
Books, Courses & Podcasts
Shantideva
Shantideva: How to Wake Up a Hero is the retelling of Shantideva's teachings before a surprised audience, who had thought he was useless and could only eat, sleep, and poop. Leading his listeners into a superhero training of different kind, he reveals the secret to perfect bravery and unbounded compassion and shows how anyone can develop them. You don't need super-strength or magical powers, he says. You just need practice.
Over a dozen illustrations painted in traditional Tibetan style draw readers into this work that will be treasured not only by Buddhist families but by anyone who aspires to become more kind and wise.