Trijang Rinpoche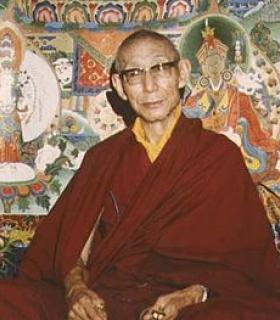 Trijang Rinpoche (1901–81) was the foremost student of Pabongka Rinpoche, the Junior Tutor of the present Dalai Lama, and the root lama of many of the first generation of great Gelug masters to teach in the West.
Books, Courses & Podcasts
Liberation in the Palm of Your Hand
Pabongka Rinpoche was one the twentieth century's most charismatic and revered Tibetan lamas, and in Liberation in the Palm of Your Hand we can see why. In this famous twenty-four-day teaching on the lamrim, or stages of the path, Pabongka Rinpoche weaves together lively stories and quotations with frank observations and practical advice to move readers step by step along the journey to buddhahood. When his student Trijang Rinpoche first edited and published these teachings in Tibetan, an instant classic was born. The flavor and immediacy of the original Tibetan are preserved in Michael Richards's fluid and lively translation, which is now substantially revised in this new edition.
---
The Magical Play of Illusion
Trijang Rinpoche was born to an aristocratic Tibetan family in 1901 and was quickly recognized as the reincarnation of a very important high lama. Eventually appointed a mentor to the young Fourteenth Dalai Lama, Trijang became one of his most trusted confidants. His status gave him a front-row seat to many of the  historical events that befell Tibet. Rinpoche observes the workings of Tibetan high society and politics with an unvarnished frankness, including inside details of encounters between the Dalai Lama and Mao Tse Tung, Jawarlal Nehru, Pope John Paul II, and Indira Gandhi. Most widely known as a yogi with deep and profound, lifelong religious training, Trijang was also a statesman, a preserver of culture, a poet, writer, and artist. His autobiography is a beautifully written tour-de-force account of Tibetan life in the twentieth century, including intimate details about the upbringing of the Dalai Lama.