Wes Nisker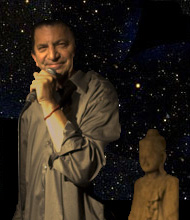 Wes Nisker is the co-founder and co-editor of Inquiring Mind, a meditation teacher, radio commentator, author and performer. His books include Essential Crazy Wisdom, Buddha's Nature, and The Big Bang, the Buddha, and the Baby Boom. He is an affiliate teacher at the Spirit Rock Meditation Center in Woodacre, California.
Books, Courses & Podcasts
The Best of Inquiring Mind
For over a quarter century Inquiring Mind has been a pathblazer at the forefront of Buddhism in the West. Rich in insight, humor, and expertise, The Best of Inquiring Mind is an unprecedented gathering of wisdom from some of the most influential thinkers in the realm of modern Dharma.