Zen Master Daehaeng (Daehaeng Kun Sunim)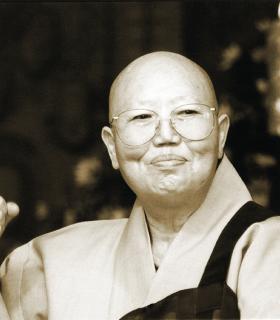 Daehaeng Kun Sunim was one of the most respected Buddhist teachers in Korea. While most Korean Zen masters have traditionally taught only monks and perhaps a few nuns, Daehaeng Kun Sunim was determined to teach spiritual practice in such a way that anyone—regardless of their occupation, gender, or family status—could practice and awaken. With this in mind, in 1972 she established Hanmaum Seon Center as a place where everyone could come and learn about their true nature and how to live with freedom, dignity, and courage. The center has gone on to emerge as one of the most influential Korean Buddhist centers today, with over fifteen domestic branches and nine overseas centers. She passed away in May 2012.
Books, Courses & Podcasts
No River to Cross
It is often said that enlightenment means "crossing over to the other shore," that far-off place where we can at last be free from suffering. Likewise, it is said that Buddhist teachings are the raft that takes us there.
In this sparkling collection from one of the most vital teachers of modern Korean Buddhism, Zen Master Daehaeng shows us that there is no raft to find and, truly, no river to cross. She extends her hand to the Western reader, beckoning each of us into the unfailing wisdom accessible right now, the enlightenment that is always, already, right here.
A Zen (or seon, as Korean Zen is called) master with impeccable credentials, Daehaeng has developed a refreshing approach; No River to Cross is surprisingly personal. It's disarmingly simple, yet remarkably profound, pointing us again and again to our foundation, our "True Nature"—the perfection of things just as they are.
Wake Up and Laugh
The compassion, humor, and practical intelligence of one of Korea's foremost Zen masters shines throughout this new collection of Dharma talks. On each page, Master Daehaeng reveals how everything in daily life, even the ugly and difficult parts, can become the fuel for our spiritual growth. Her illuminating insight will guide the reader toward an understanding of her ultimate teaching—know yourself, trust yourself, and go forward, no matter what your current life situation might be.
At turns laughing and scolding, always engaging, Zen Master Daehaeng exhorts, cajoles, and instructs readers in their practice. These Dharma talks—gathered over several years—are like having Master Daehang at your side, urging you on.
The question-and-answer sessions with students are particularly enlightening; readers will find that the students' questions mirror their own and that Master Daehaeng's responses guide them on.