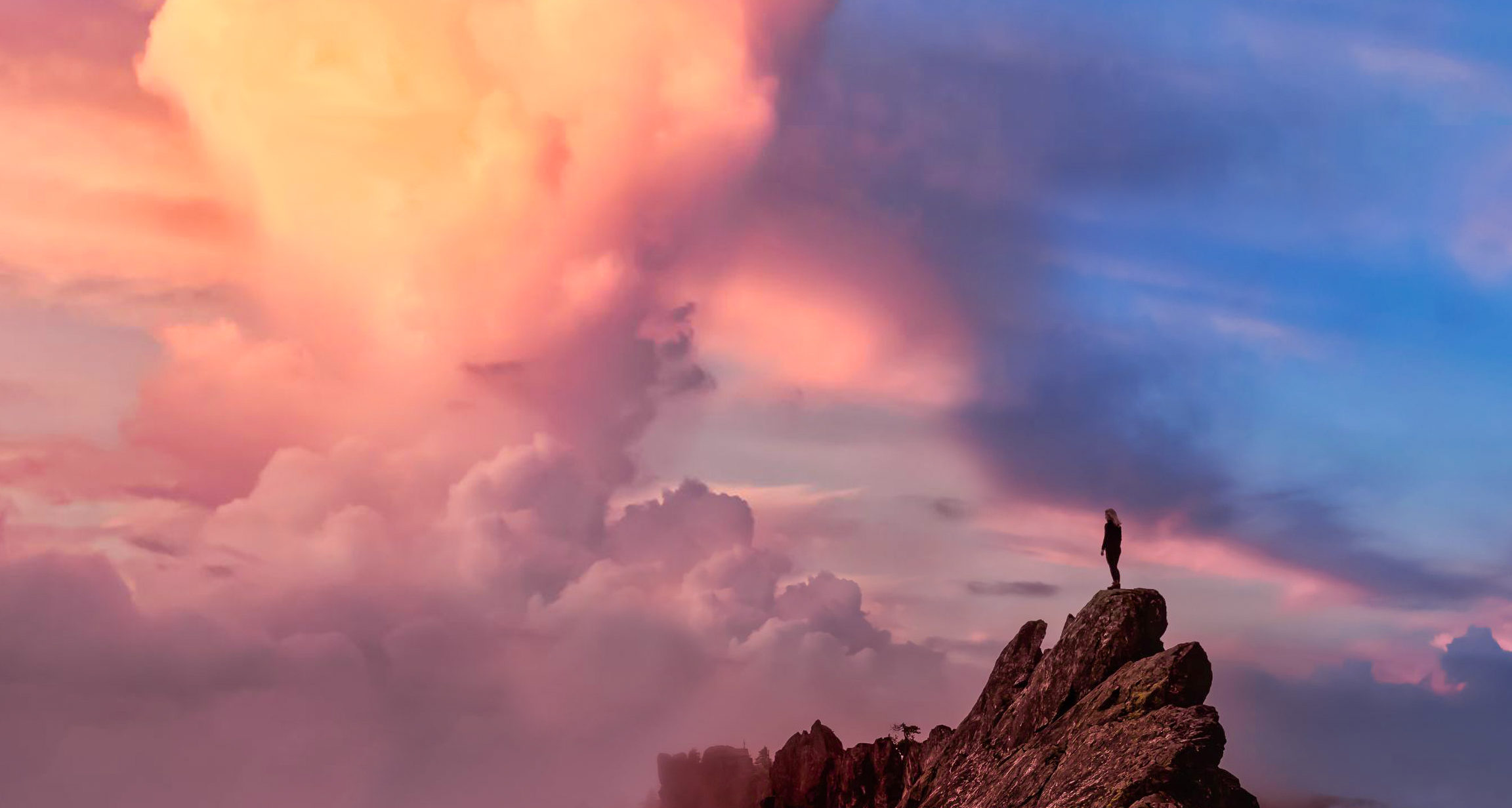 BUDDHIST MEDITATION: A Year In-Depth
Brought to You by the Wisdom Experience
JOIN NOW
Discover your next big insight with your Wisdom Experience membership.
Picture spending a year being exploring the wide range of contemplative practices from different Buddhist traditions with beloved teachers.
Imagine a world where these profound teachings are at your fingertips, supporting your spiritual journey as you study at your own pace.
Visualize having direct access to this timeless wisdom whenever you seek guidance.
Can you envision it? 
We could, which is why we created the Wisdom Experience. Designed to bring Buddhists practitioners, scholars, and the curious even closer to the heart of the Buddha's teachings, a membership to the Wisdom Experience means stepping into a world where profound wisdom is accessible, where community thrives, and where your journey on the path is nurtured and celebrated.
Our Buddhist Meditations: A Year In-Depth program within our In-Depth membership takes that even further and provides a year of study designed to help you develop a solid understanding of a range of meditation practices. And our non-profit mission means we're committed to reinvesting every membership contribution into sharing the Dharma, supporting teachers, and expanding our library of exceptional Buddhist content. Becoming a member or upgrading your membership makes you a vital part of this process. Continue reading to explore everything our Buddhist Meditation: A Year In-Depth entails, or simply click "Join" to embark on this transformative path now.


Discover a deeper learning experience and elevate your meditation practice.
The Wisdom Experience is pleased to announce the launch of our new membership, In-Depth. Can you envision where you could be in your practice or studies after spending a year delving into various Buddhist practices, exploring how different teachers have taught these practices over time and traditions, all while being supported in your practice by inspirational instructors? Through your In-Depth membership, you can do just that. We've developed the Buddhist Meditation program as a part of your membership that is specifically designed to help you develop a comprehensive and rich understanding of different Buddhist meditation practices.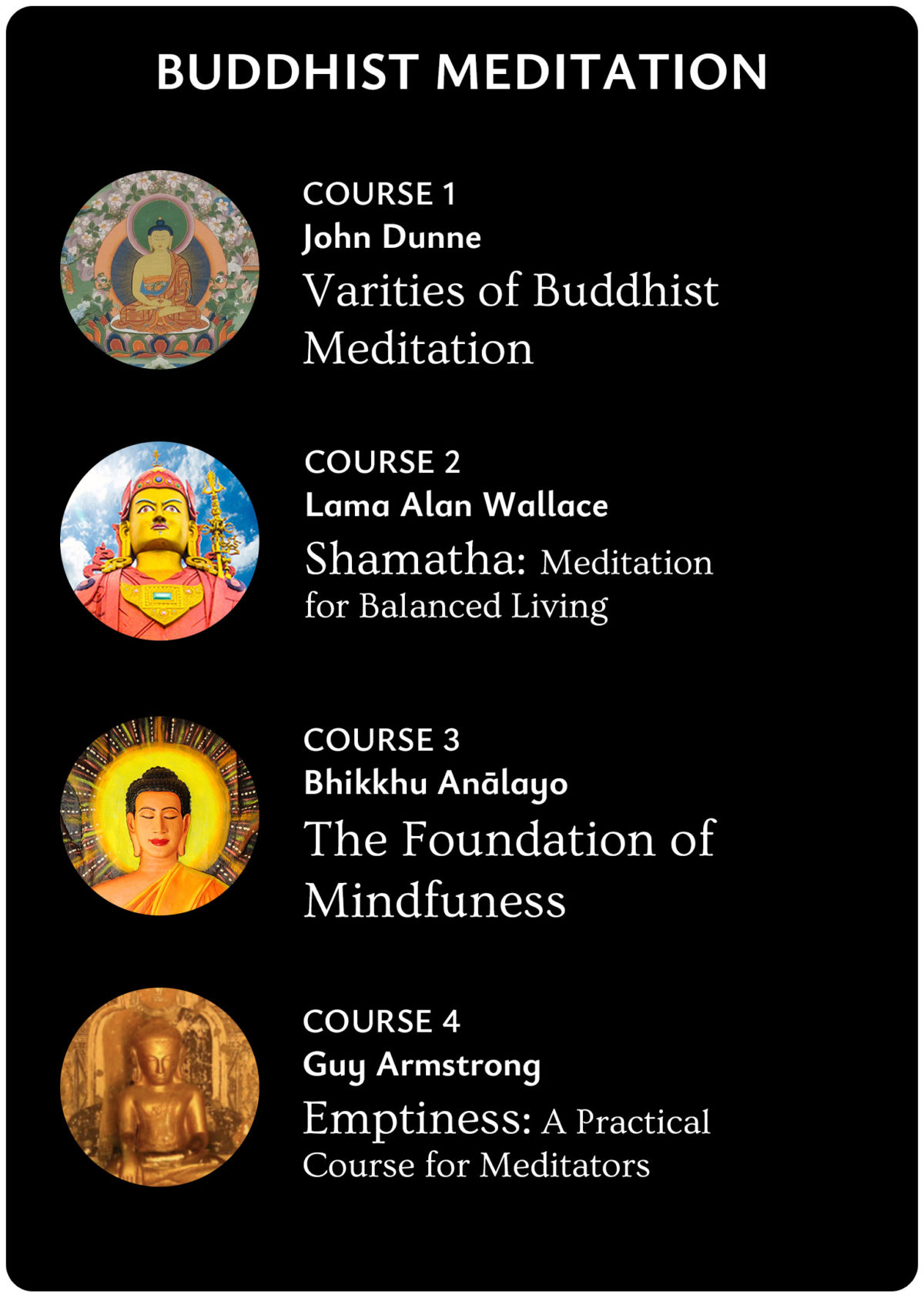 *By joining the Buddhist Meditation program are NOT locked into these four courses. Should wish to change any, or all, of the courses and select a different course from the Wisdom Experience Course Catalog you may do so by emailing us at [email protected].
This program will provide you with a thorough understanding of Buddhist meditation across time and traditions.
When you sign up for your In-Depth membership and the Buddhist Meditation program, you'll embark on an extraordinary journey with amazing teachers. You'll learn about multiple forms of contemplative practices, their underlying theories, and how different traditions work with them, before going on to focus on practices from different traditions or styles of practice. Introduction to Mindfulness will help you gain a rich, meaningful, and sophisticated understanding of what mindfulness really means, and the transformative way it can affect our understanding of reality. In Shamatha: Meditation for Balanced Living you'll explore the theory behind and practice a range of methods for developing meditative quiescence, or shamatha, from different texts and historic teachers. And in Emptiness: A Practical Course for Meditators you'll go be guided by a renowned Insight Meditation teacher to look at emptiness as it affects your understanding of self, phenomena, awareness, and meditation. At the end of the year, you'll have a comprehensive understanding of various meditation styles and theories along with  countless hours of experiential knowledge in these practices.
Click the button below to join In-Depth and start learning at your own pace.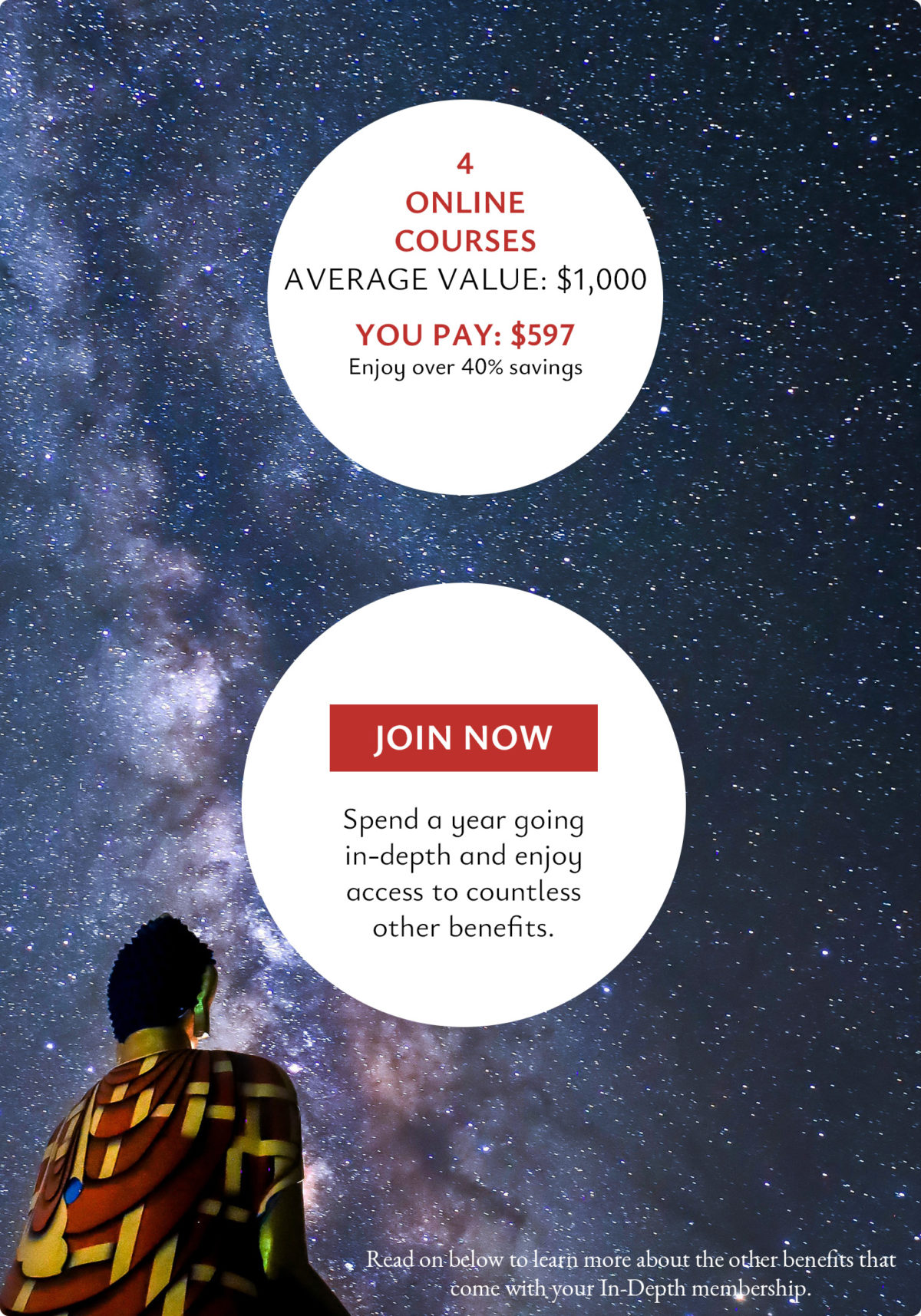 Wisdom is a 501(c)(3) nonprofit organization which means we're committed to reinvesting every membership contribution into sharing the Dharma, supporting teachers, and expanding our library of exceptional Buddhist content. By becoming a member, you become a vital part of this process. Thank you for supporting our mission to share the Dharma!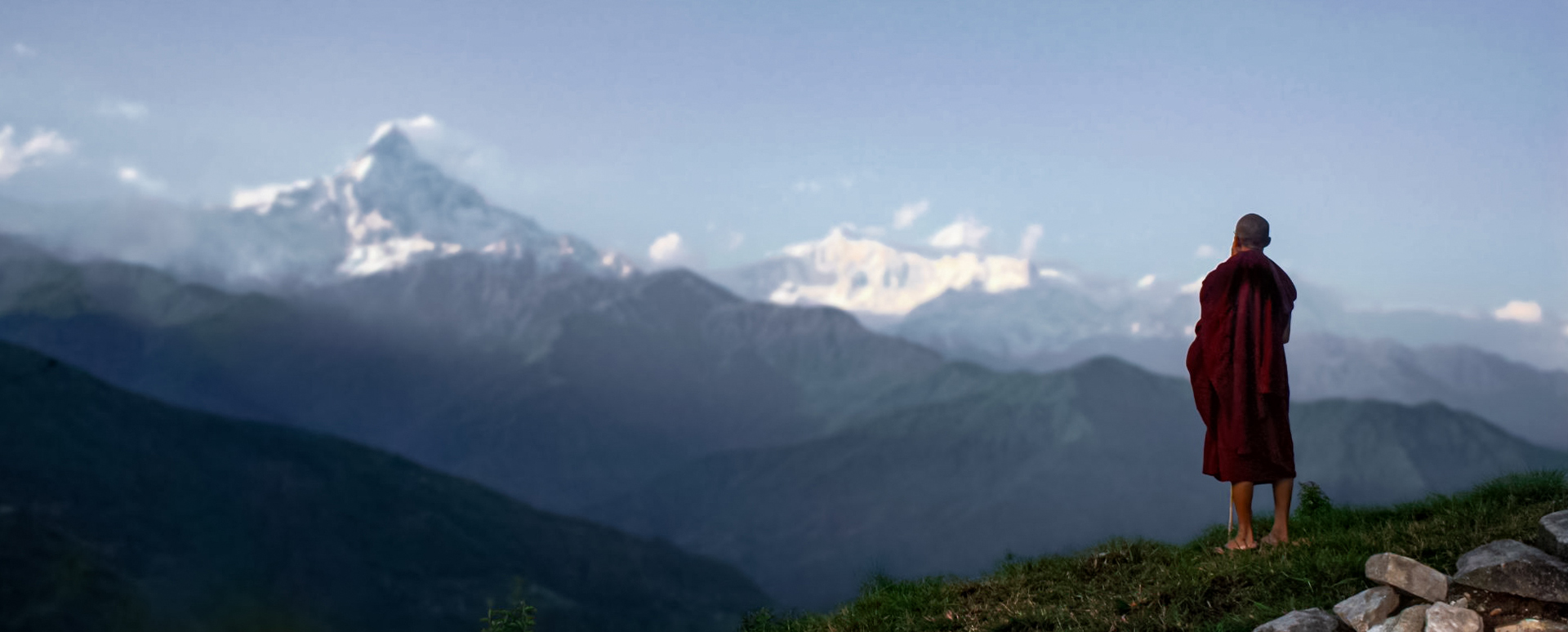 A Wealth of Dharma Content
When you join In-Depth you'll gain access to an unparalleled supply of Dharma teachings from beloved masters. You'll be able to:
Dive into Profound Teachings
In-Depth members get to enjoy four courses of their choice from the Wisdom Experience Course Catalog per year.*
Elevate Your Practice
Read from over 160 of Wisdom's bestselling volumes in the Reading Room, and stay up-to-date with new releases added every month.
Experience Transformative Growth
Discover new resources to help you grow and be inspired including movies, lecture series, Gompa Wisdom Teachings, and more.
Support Your Favorits
"Like" books, videos, and more to show your support for your favorite teachings and authors.
Invest in the Dharma
As a nonprofit organization, membership revenue is funneled right back into creating more rich Dharma offerings and supporting our teachers and authors.
Join a Community
Being a member of the Wisdom Experience means you've joined a community of like-minded Dharma explorers.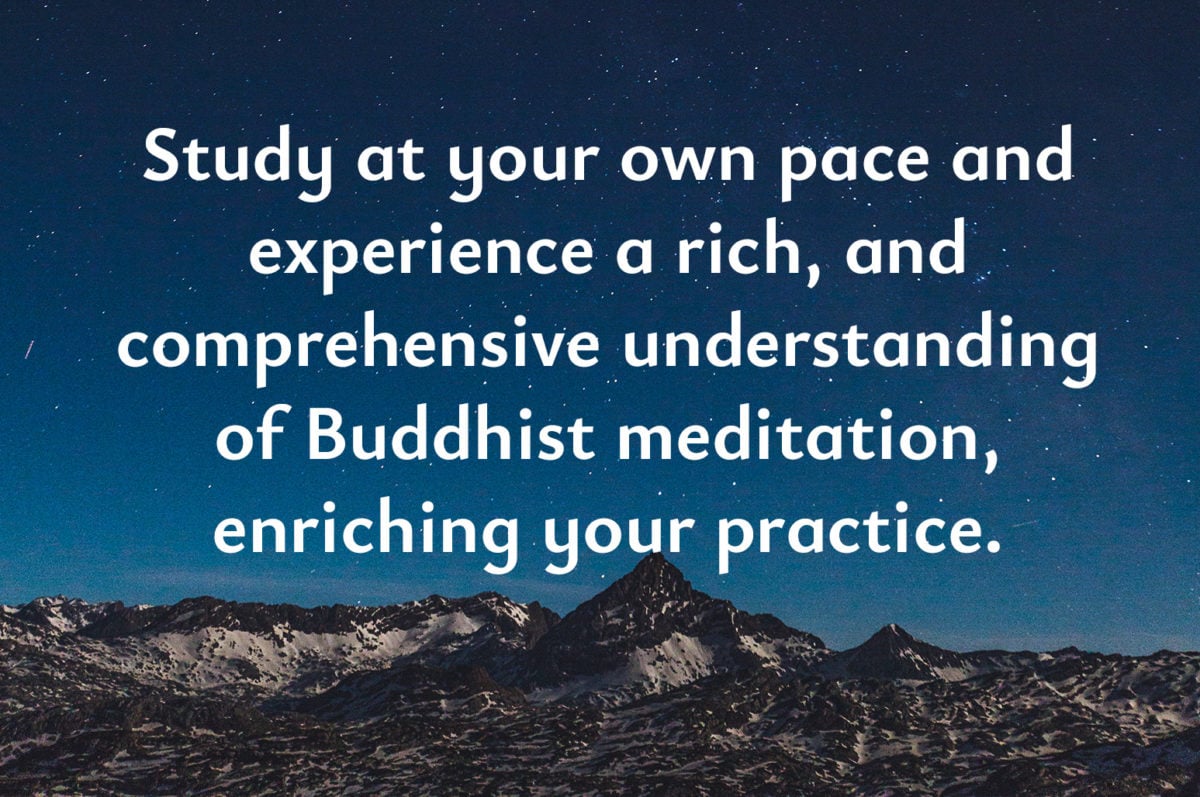 *By joining the Buddhist Meditation program are not locked into these four courses. Should wish to change any, or all, of the courses and select a different course from the Wisdom Experience Course Catalog you may do so by emailing us at [email protected].
Sign Up for Your In-Depth Membership
We're dedicated to bringing you the heart of the Buddha's teachings in a format that suits your quest for knowledge.
Spend a year studying Buddhist meditation in-depth. After joining In-Depth you'll receive an email asking you to select your first two courses. To review what courses are available to In-Depth members visit the Wisdom Experience Course Catalog.
Your $108 discount is automatically applied at checkout making your first year of membership just $498. If you are an existing member and are directed to you're profile to upgrade, you can use code INDEPTH108 to apply your discount.
In-Depth
Study with renowned masters.
| | | |
| --- | --- | --- |
| | In-Depth Annual | |
| Member-only Sales | | |
| 20% Off ALL Book Purchases | | |
| 160+ Books in the Reading Room | | |
| Exclusive Video Content¹ | | |
| Wisdom Academy Courses² | 4 of your choice from the Wisdom Experience Course Catalog³ | |
| | Study with renowned masters. | |
| | JOIN | |
Meet Your Teachers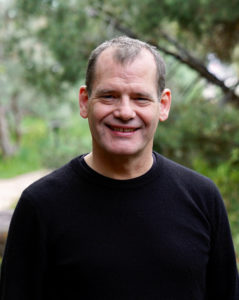 John D. Dunne serves on the faculty of the University of Wisconsin-Madison, where he holds the Distinguished Chair in Contemplative Humanities at the Center for Healthy Minds. He is also chair of the Department of Asian Languages & Cultures. His work focuses on Buddhist philosophy and contemplative practice, especially in dialog with Cognitive Science and Psychology. His more than fifty publications appear in venues ranging across both the Humanities and the Sciences, including Foundations of Dharmakīrti's Philosophy (2004) and Science and Philosophy in the Indian Buddhist Classics: The Mind (2020). John Dunne speaks in both academic and public contexts, and he occasionally teaches for Buddhist communities. His broader engagements include being a Fellow of the Mind and Life Institute, where he was previously a member of the board of directors, and serving as an academic advisor to the Rangjung Yeshe Institute in Kathmandu, Nepal.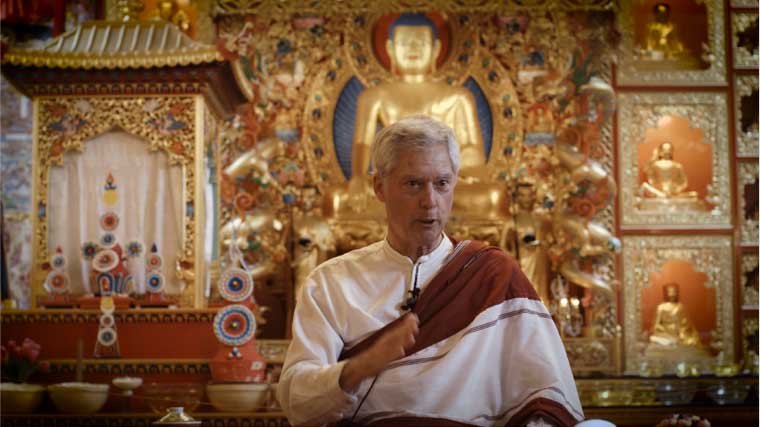 Dynamic lecturer, progressive scholar, and one of the most prolific writers and translators of Tibetan Buddhism in the West, Lama Alan Wallace, PhD, continually seeks innovative ways to integrate Buddhist contemplative practices with Western science to advance the study of the mind. Lama Alan, a scholar and practitioner of Buddhism since 1970, has taught Buddhist theory and meditation worldwide since 1976. Having devoted 14 years to training as a Tibetan Buddhist monk, ordained by H.H. the Dalai Lama, he went on to earn an undergraduate degree in physics and the philosophy of science at Amherst College and a doctorate in religious studies at Stanford. Lama Alan later studied Dzogchen with Gyatrul Rinpoche, a senior teacher in the Nyingma school of Tibetan Buddhism. With his unique background, Lama Alan brings deep experience and applied skills to the challenge of integrating traditional Indo-Tibetan Buddhism with the modern world. Lama Alan is the author and translator of several books, including Düdjom Lingpa's Visions of the Great Perfection, Stilling the Mind: Shamatha Teachings From Dudjom Linpa's Vajra Essence, Tibetan Buddhism from the Ground Up, Natural Liberation: Padmasambhava's Teachings on the Six Bardos, and The Attention Revolution.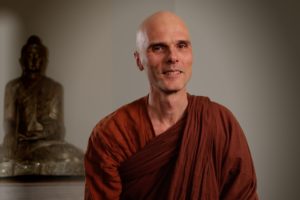 Bhikkhu Anālayo is a scholar-monk and the author of numerous books on meditation and early Buddhism, such as Satipatthāna: The Direct Path to Realization, Perspectives on Satipatthāna, and Satipatthāna Meditation: A Practice Guide. His main area of academic research is early Buddhism, with a special interest in the topics of meditation and women in Buddhism. Bhikkhu Anālayo was born in Germany in 1962 and ordained in Sri Lanka in 1995. In the year 2000 he completed a PhD thesis on the Satipaṭṭhāna-sutta at the University of Peradeniya (published by Windhorse in the UK). In the year 2007 he completed a Habilitation research at the University of Marburg, in which he compared the Majjhima-nikāya discourses with their Chinese, Sanskrit, and Tibetan counterparts. Besides his academic activities, he regularly teaches meditation.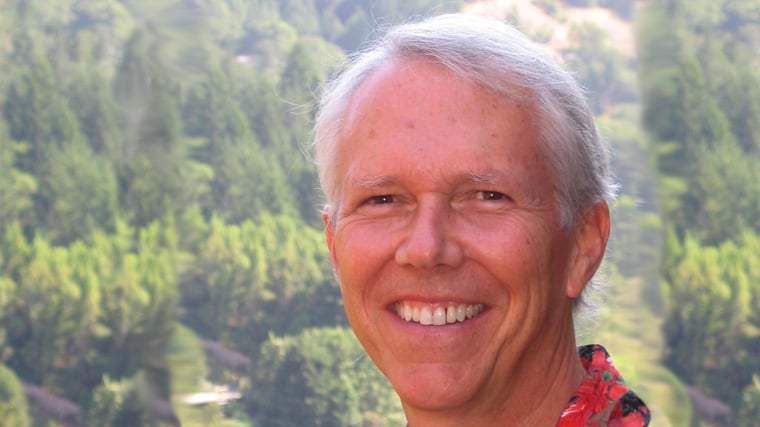 Guy Armstrong has been leading insight meditation retreats since 1984 in the U.S., Europe, and Australia. His training included living as a monk for a year in the Thai forest lineage. Guy is a member of the Spirit Rock Teachers Council and a guiding teacher of the Insight Meditation Society. He lives in Woodacre, CA. Guy is the author of Emptiness: A Practical Guide for Meditators and the corresponding Wisdom Academy course, Emptiness: A Practical Course for Meditators.
---
¹ In-depth members have access to exclusive video content such as multiple 8-week retreats with Lama Alan Wallace, one-day retreats, concerts, etc. They also have access to our entire catalog of movies and documentaries, lecture series, Thupten Jinpa's Masterclass: The art of Translating Tibetan, and more.
² Wisdom Academy Courses are created by the Wisdom Academy, on branch of Wisdom, and are their own unique products. Newly released courses from Wisdom Academy are not included in the offering for In-depth members.
³ The Wisdom Experience Course Catalog is made up of a selection of Wisdom Academy Courses. To learn more about which courses are included and to see the selection of courses that In-Depth members can select from please click here. In-Depth members can enroll in two courses at a time, and will retain access to all completed courses as long as they are an In-Depth member.
For full terms and conditions including cancellation time periods, click here.