We are thankful for you our wonderful supporters and excited to share what's new to the Wisdom Experience this November and hope these resources continue to spark inspiration and encourage adventure, and awakening all month long.  
In October, we launched our In-Depth membership! Learn more below.
The In-Depth membership is our newest membership offering, a way for dedicated practitioners to spend a year in comprehensive study with beloved teachers and renowned masters. In-Depth members can enroll in four of the courses in the Wisdom Experience Course Catalog a year, for less than the price of two. Whether you're interested in meditation, mindfulness, Buddhist philosophy, or other aspects of the Dharma, there are courses you won't want to miss. Plus by doing multiple courses through your In-Depth membership, you'll save significantly compared to purchasing them individually.
In-Depth members also save 20% on all physical and ebooks they purchase through Wisdom, and as always, our non-profit mission means we're committed to reinvesting every membership contribution into sharing the Dharma, supporting teachers, and expanding our library of exceptional Buddhist content. As a member, you are already a vital part of this process and we're deeply grateful for your continued support and dedication to your practice. Thank you for being an integral part of our community.
If you're ready to spend a year studying in a manner that is specifically designed to help you dive deeply into profound wisdom, you can upgrade your membership today. Simply log in to your account, visit the Membership section, and upgrade to an In-Depth Membership. You'll instantly unlock a world of wisdom, savings, and exclusive content. Or if you want to learn more, click here.
As you read the rest of the newsletter, remember to keep an eye out for the membership level icon in the corner of each image. These mark what level of membership the content is available to. 


During the month of November, Buddhahood Without Meditation and the film Lama Mani are available to Free members.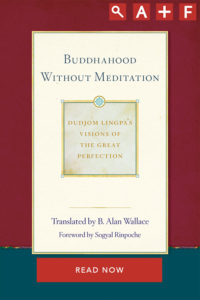 The practice of Dzogchen, the Great Perfection, is the pinnacle of the nine vehicles of practice taught in the Nyingma school of Tibetan Buddhism. The highly influential mystic Düdjom Lingpa (1835–1904) and his disciple Sera Khandro (1892–1940), the most prolific female writer in Tibetan history, here illuminate the methods to discover our own primordial purity and abide in uncontrived awareness.
Buddhahood Without Meditation is Düdjom Lingpa's most widely taught visionary text. In it, wisdom beings and historical figures in the Great Perfection lineage emphasize the view of cutting through (trekchö) to the original purity of pristine awareness via the four special samayas, or pledges, of the Great Perfection: nonexistence, oneness, uniform pervasiveness, and spontaneous actualization. At each stage of his spiritual progress, Düdjom Lingpa's doubts are dispelled and his realizations enhanced by pithy advice.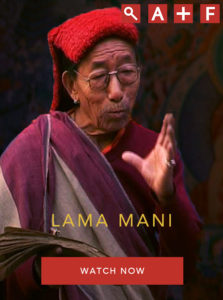 It used to be a common sight in Tibet to come across lama mani, also known as bhuchen, who would preach the Dharma with the aid of scroll paintings. The stories were attractive to the illiterate masses as the bhuchen would narrate the stories in a very colloquial language, and often intersperse earthy and irreverent jokes. Unlike the formal lamas, a bhuchen would mix informally with laypeople thereby bridging the gap between himself and his listeners.
Since coming into exile, this practice has decreased to the point that there are only two bhuchens left in the entire community of 130,000 exiled Tibetans. With the initiative of Tibet Fund and support of the Shelley and Donald Rubin Foundation, one of the two surviving bhuchens, Gyurmey, in his seventies, was invited from India to teach the art to some young nuns in Thukje Choling Nunnery in Nepal.
Don't forget, you can invite your friends to sign up for a Free membership to join you.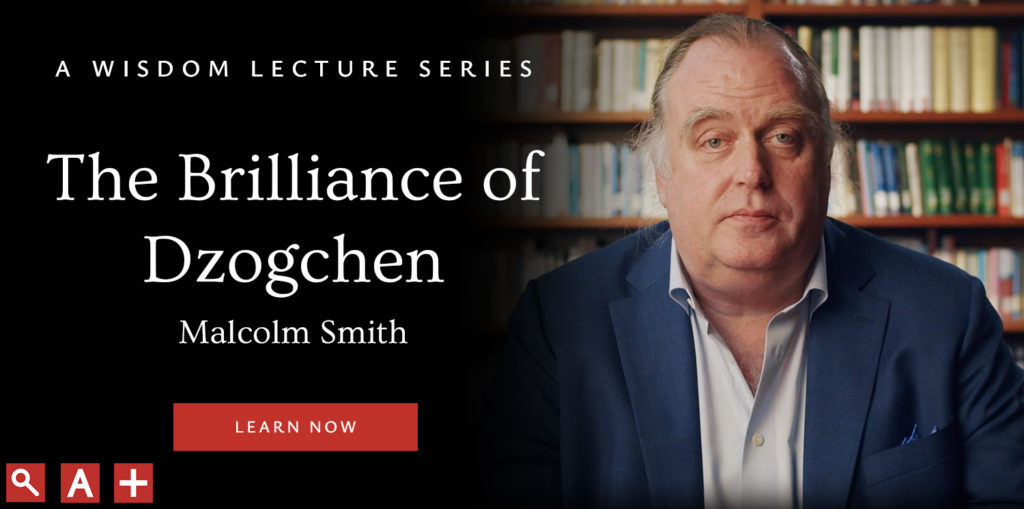 It's been four years since we released The Brilliance of Dzogchen, our lecture series with Malcolm Smith. For everyone whose joined the Wisdom Experience since then, we wanted to make sure you were aware of this wonderful series. In-Depth, All-Access, and Plus members, can join Malcolm Smith in this six-part lecture series, as he brings his freewheeling exuberance and encyclopedic knowledge to bear on some of the most abstract and esoteric topics in the Great Perfection.
This first lecture is available to all members of the Wisdom Experience. Join the Wisdom Experience at an In-Depth or Plus level to view the whole series!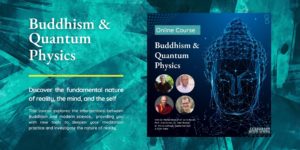 We're pleased to be able to offer our members a 30% discount to the Buddhism & Quantum Physics course presented by Science & Wisdom LIVE with the use of the code: WisdomFriends30.

Be sure to register for our upcoming Wisdom Dharma Chat this November!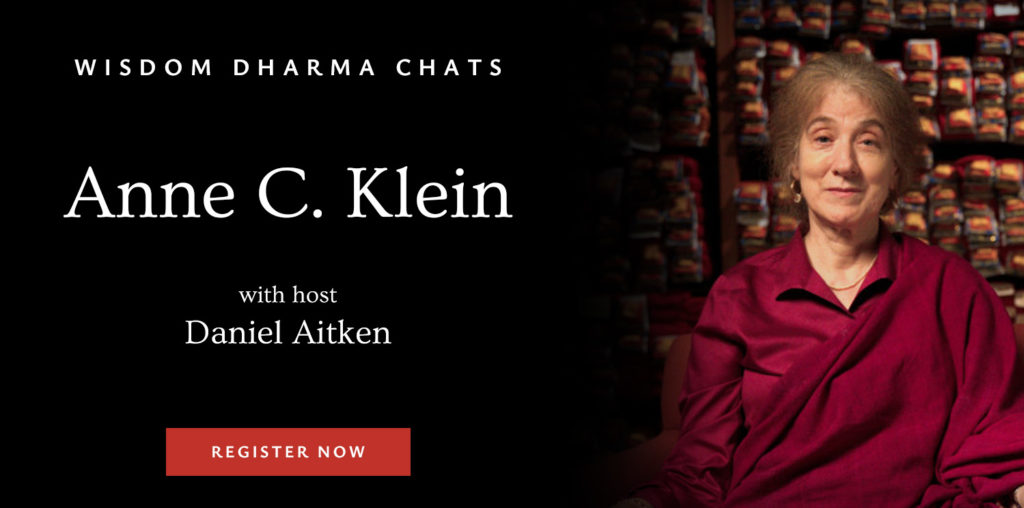 Join us as we kick off November with an all new Wisdom Dharma Chat featuring special guest, Anne C. Klein, on Wednesday, November 1 at 7:00 PM EDT. During this Wisdom Dharma Chat Daniel and Anne will discuss her upcoming Wisdom Academy course Longchenpa's Sevenfold Mind Training, her book Being Human and a Buddha Too, and much more! To register to watch this Wisdom Dharma Chat live over Zoom, register here.

Discover all of the books in our Reading Room under the "Explore" menu on our website. Books in our Reading Room are available exclusively to Plus, All-Access, and In-Depth members.
New and Featured in the Reading Room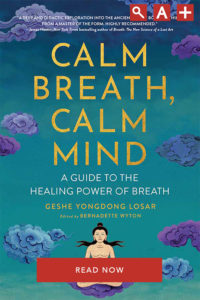 Calm Breath, Calm Mind
by Geshe Yongdong Losar,
Geshe Tenzin Wangyal Rinpoche
edited by Bernadette Wyton
"Grown up in the ancient Bön tradition in Tibet and living in Canada, Geshe Yungdrung is able to express the tradition's deep practices in accessible language with a poetic undertone. Through simple exercises, taking breath and energy as the overriding theme, he leads us to experience a deep sense of inner peace and well-being. If you are new to meditation, here is an excellent guide to develop an authentic and effective practice. If you are an experienced practitioner, this book will reconnect you to an attitude of openness and playfulness in your practice." —Florens van Canstein, meditation teacher and translator in the Bön tradition, author of Travelling with the Master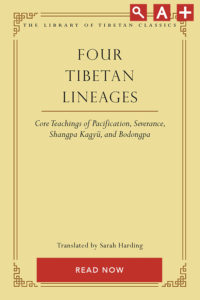 Four Tibetan Lineages
translated by Sarah Harding
"This carefully researched and meticulously organized work presents serious students and practitioners of Tibetan Buddhism with a treasury of knowledge, wisdom, and clearly detailed practices. At a time when the continuity of the Tibetan tradition of valid masters and lineage holders is challenged, this publication will serve to both clarify and preserve the lineages' gems."' —Jetsunma Tenzin Palmo, founding director of Dongyu Gatsal Ling Nunnery and author of Reflections on a Mountain Lake: Teachings on Practical Buddhism
Also in Your Reading Room
Exclusively for Plus, In-Depth, and All-Access members
New Releases & Back in Stock
The following books were released in October, are available to purchase early on our website, or are now back in stock:
This episode of the Wisdom Podcast, recorded live as a Wisdom Dharma Chat features special guest Jay Garfield. Jay Garfield is Doris Silbert Professor in the Humanities, Professor of Philosophy and Director of the Logic Program and of the Five College Tibetan Studies in India Program at Smith College, Professor in the graduate faculty of Philosophy at the University of Massachusetts, Professor of Philosophy at Melbourne University and Adjunct Professor of Philosophy at the Central Institute of Higher Tibetan Studies. He teaches and pursues research in the philosophy of mind, foundations of cognitive science, logic, philosophy of language, Buddhist philosophy, cross-cultural hermeneutics, theoretical and applied ethics, and epistemology.
During this episode, host Daniel Aitken and Jay discuss: 
Jay's recent book,

Losing Ourselves

, and the concept of self;

cognitive illusions and thought experiments;

Jay's online courses with Wisdom Academy;

and much more.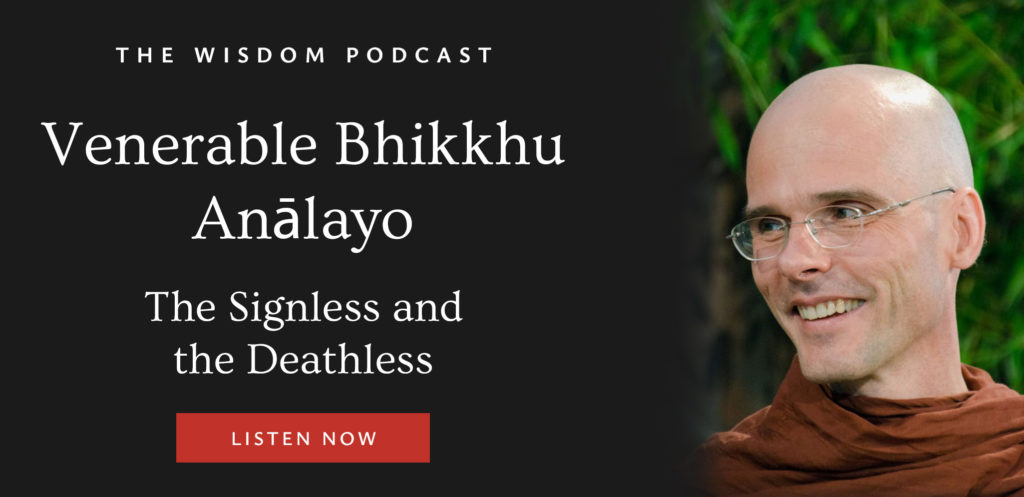 This episode of the Wisdom Podcast features Venerable Bhikkhu Anālayo. Venerable Anālayo is a scholar, meditation teacher, and author. He completed his PhD research on the Satipaṭṭhānasutta at the University of Peradeniya, Sri Lanka. His works from Wisdom include Daughters of the Buddha, Early Buddhist Oral Tradition, Superiority Conceit in Buddhist Traditions, and Rebirth in Early Buddhism and Current Research. In this episode Ven. Anālayo and host Daniel Aitken discuss Venerable's newest release The Signless and the Deathless.
They also discuss
the nature of signs;

our perception of reality;

the practice of bare awareness;

and more!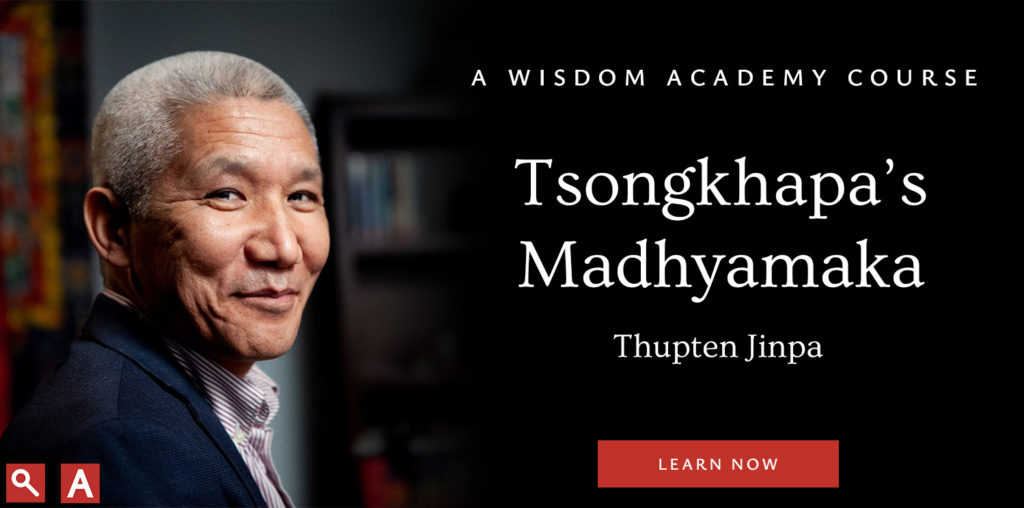 All-Access and In-Depth members can gain access to the key to liberation as they deepen their understanding of what it means to realize emptiness in Tsongkhapa's Madhyamaka, Thupten Jinpa will take you on a ten-lesson journey through some of the most fascinating and important ideas in Buddhism. You'll discover the mādhyamaka teachings of one of the most renowned minds in Tibet: influential monk and yogi Je Tsongkhapa Losang Dragpa (c. 1357–1419). Explore why emptiness matters through Tsongkhapa's personal quest for the view of mādhyamaka philosophy. Students will receive a detailed overview of the landscape, and learn how to bring emptiness into meditative practice. As interpreter for His Holiness the Dalai Lama and a renowned author, translator, and scholar, Thupten Jinpa brings to the course his years of practice and study as well as his deep connection with Tsongkhapa. Not an All-Access or In-Depth member? Join now, or learn more about how you can enroll directly in the course here.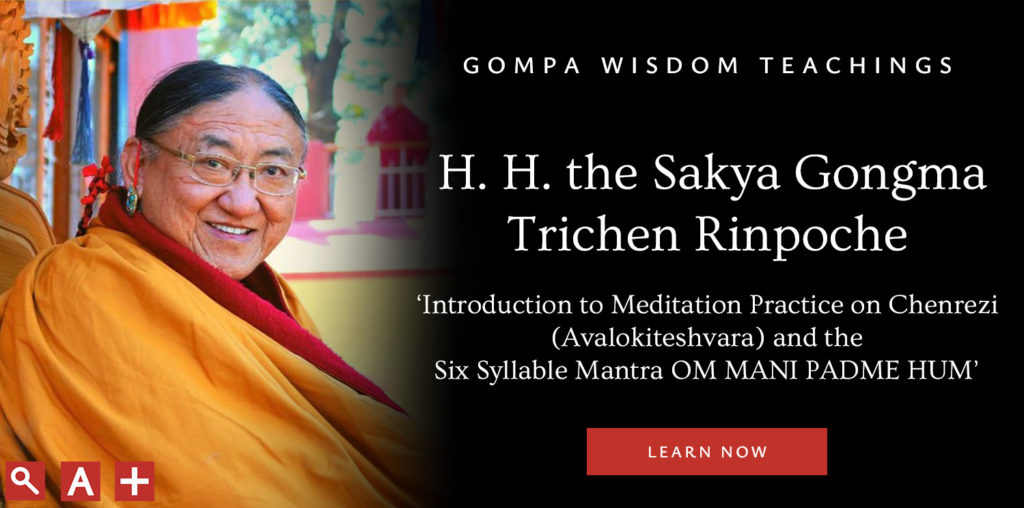 Don't miss out on this comprehensive teaching from H. H. the Sakya Gongma Trichen Rinpoche titled 'Introduction to Meditation Practice on Chenrezi (Avalokiteshvara) and the Six Syllable Mantra OM MANI PADME HUM'. Next month, we'll be launching our new Gompa Wisdom Teaching so November is your last chance to enjoy this teaching where H. H. the Sakya Gongma Trichen Rinpoche gives a detailed commentary and an inspiring guide to meditation practice on Chenrezi (Avalokiteshvara). This teaching is also a succinct and profound introduction to the essential fundamentals of Tibetan Buddhist thought and practice.