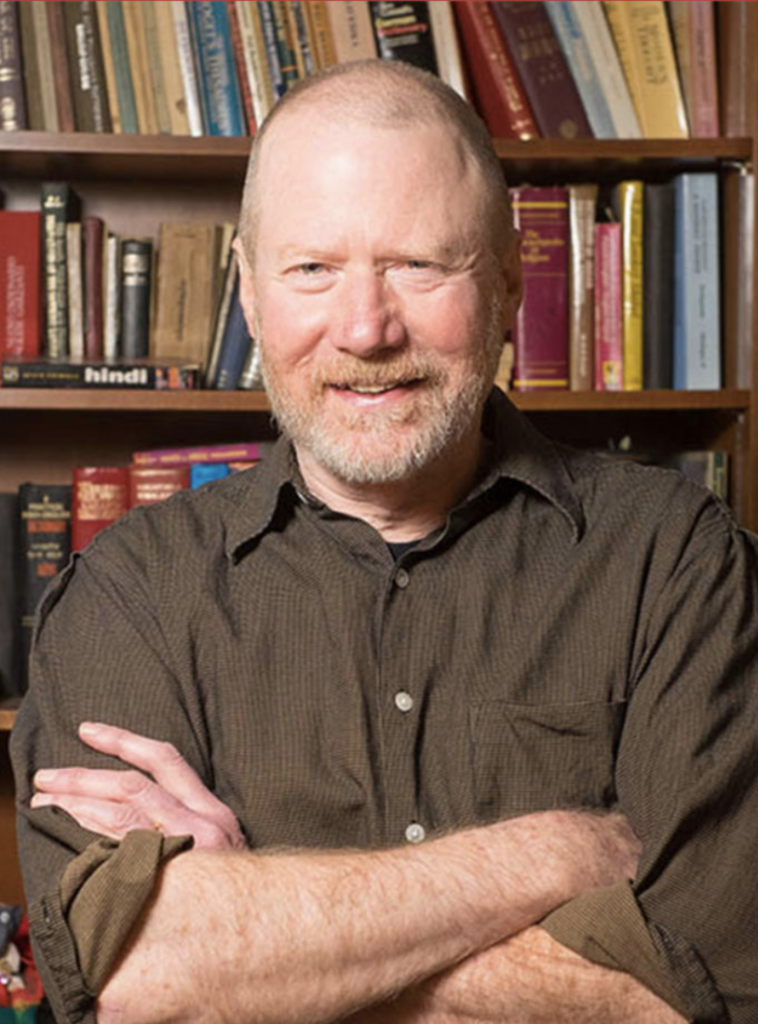 Sandy Huntington (1949–2020)
We are very sad to announce the peaceful passing on Sunday, July 19th, 2020, of C. W. "Sandy" Huntington, Jr., following a six-month struggle with pancreatic cancer. Born February 24, 1949, Sandy grew up in East Lansing, Michigan, walking distance from Michigan State University, where he later attended college. After graduation he traveled to Norway, studied Norwegian, and began a lifelong love of language-learning and literature. Upon returning to the United States, he enrolled in a library sciences program at the University of Michigan, then switched to linguistics, and eventually found a home in Asian Languages and Cultures. Under the guidance of Luis Gómez, he focused on Buddhist Studies and earned his PhD. As part of his graduate training, Sandy studied Sanskrit with Madhav Deshpande, and later spent four years living in India (1976–79), where he continued his Sanskrit studies with the pandits Ambika Datta Upadhyaya and Ram Shankar Tripathi and also studied Hindi and Tibetan. Sandy would return to India, especially Banaras, many times during his life; for him it was a second home. He spent one notable summer in the mountains of Mussoorie, translating Candrakīrti's Madhyamakāvatāra with Geshé Namgyal Wangchen. This translation, along with his extensive commentary, was later published as The Emptiness of Emptiness (Hawaii UP, 1989), which remains a seminal text for students of Buddhist philosophy. 
Sandy first taught at Antioch University's Buddhist Studies in India Program, then at the University of Michigan and Denison College, before joining the faculty at Hartwick College in Oneonta, New York. There he guided undergraduates in religious studies for more than two decades and became a much loved professor, receiving both the Margaret L. Bunn Award for Excellence in Teaching (2004) and the Teacher/Scholar Award (2019). Sandy was keen to engage his students in their full humanity, encouraging them to bring their intellect, their full selves, and even that which is beyond language into play when they engaged with the world. To that end, Sandy taught a course over four years called "Architectural Design and Building: Architecture of the Sacred," during which the students designed and built two environmentally sustainable structures, including a straw bale house. And eight times he taught a course called "Near Death Experience," in which his students served as hospice volunteers while also reading about death and dying and meditating on their eventuality.
Throughout his career, Sandy urged his colleagues in Buddhist philosophy to reflect on their hermeneutical assumptions. His provocative critiques were marked by unusual creativity; he not only deconstructed old ways of reading but also offered new ones. In 1992, in a series of articles, Sandy and José Cabezón engaged in a spirited discussion about how to read Indian Madhyamaka philosophy. The conversation inspired a panel at the International Association of Buddhist Studies conference in 1995, and the papers from that panel subsequently filled a dedicated issue of that organization's journal. In 2007, he published an article called "The Nature of the Mādhyamika Trick" that spawned a lively debate with Jay Garfield that culminated in a fascinating, three-day symposium at Smith College in 2010 called "Madhyamaka and Methodology." 
Sandy was also a gifted writer for non-academic audiences, making complex philosophical ideas accessible and rendering them with literary flair. This is evident in the articles he penned in recent years for Tricycle magazine, and most notably in his novel, Maya (Wisdom Publications, 2015). The book is a beautifully rendered roman-à-clef of sorts, mirroring Sandy's time in India, that weaves together travelogue, spiritual autobiography, and philosophical reflection. As Francisca Cho observed, "Maya is a work of the imagination that presents itself as such, and simultaneously asks the reader to ponder how such imagination differs from what we understand as reality. This playfulness connects Maya to traditional East Asian literary practices—such as the classic dream tale—that are inspired by Buddhist theories of the imagination. This is fiction writing that is as philosophical as it is creative, and which turns art into religion without the preachiness or didacticism." Sandy went on to develop his thoughts about the inextricable conflation of illusion and reality in an article on Nāgārjuna's fictional world (2017). Seeing Buddhist philosophy as not just another argument but rather as the appearance of argument that allows one ultimately to let go of clinging, Sandy masterfully allowed his work in both genres, in the words of Maya's mischievous narrator, to "define the empty throne where I cannot be found."
Sandy spent years teaching and meditating on death and dying, and when his own death was imminent, he used the opportunity to deepen his knowledge and practice—and to share his insights. Following his diagnosis this past January, Sandy dedicated the last months of his life to writing What I Don't Know About Death. The book will be published by Wisdom Publications in 2021. His final chapter, written less than two months before his passing, concludes: 
In order to live what is left of my life and die in peace, the wrathful deity of death is teaching me to give myself over to the human community and to a felt kinship with the nonhuman world, a world to which I have always belonged while never fully appreciating the significance of that belonging, a world where this failing body of mine is, like all bodies, a tiny, fleeting shadow in the immensity of creation. In only a few months the gestalt has shifted, and after a lifetime of study and practice of Buddhism I am only now learning, here in this prison of necessity, to release my grip on life and so to love life as it is in all its beauty and horror, to give myself over to the embrace of those infinite others, human and nonhuman—the earth in which we are rooted, teaming with beetles and grubs and worms, the grass and flowers and trees, the robin building a nest outside my window, the hawk circling high overhead, the clouds, wind, rain, and sun—all of whom have nourished and sustained me throughout this long journey home. They are in me, and I am in them. We are inseparable.
Sandy is survived by Liz, his beloved wife of thirty-five years, and their two children, Sam and Katie. He will be profoundly missed by his many students, friends, and colleagues.
Thank you for everything, Sandy.