Michael Imperioli: Acting, Success, and the Buddhist Path (#105)
Posted
In this special episode of the Wisdom Podcast—recorded live as a Wisdom Dharma Chat—host Daniel Aitken speaks with Michael Imperioli, best known for his role as Christopher Moltisanti in The Sopranos, for which he won a 2004 Emmy Award for Outstanding Supporting Actor in a Drama Series. Michael is also a practicing Tibetan Buddhist and is a student of His Eminence Garchen Rinpoche. 
The conversation begins with Michael recounting his initial explorations of Buddhism. He recalls how he has been a spiritual seeker since he was young and went through a series of encounters with various mystical and shamanistic traditions before connecting with Buddhism. After achieving certain levels of success with his acting career, Michael remembers feeling that something was lacking in his life and describes how Buddhist instruction and practice helped him to address this.
Michael also discusses the ways in which acting and Buddhist practice dovetail with each other, describing how some of the techniques of method acting are akin to Tibetan practices in terms of movement, vocalization, imagination, and concentration. Noting these similarities, Michael explains how acting primed him, not necessarily for Buddhist practice itself, but for developing the motivation to learn more and delve deeper into the Vajrayana tradition. 
---
Please note: this episode was recorded over Zoom as a Wisdom Dharma Chat and is presented here in its original form, but with the Q&A portion removed. Click here to learn about past and future Dharma Chats.
About the Interviewee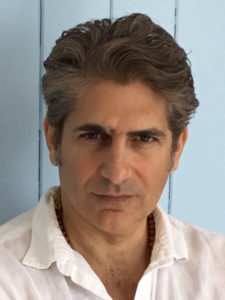 Michael Imperioli is best known for his starring role as Christopher Moltisanti in the acclaimed TV series The Sopranos, which earned him a Best Supporting Actor Emmy Award. He has also been a devoted practitioner of Tibetan Buddhism for many years; his root guru is Garchen Rinpoche. He has appeared in six of Spike Lee's films and has also acted in films by Martin Scorsese, Abel Ferrara, Walter Hill, Peter Jackson, and the Hughes Brothers. His debut novel, The Perfume Burned His Eyes, was published by Akashic Books in 2018.