Daju Suzanne Friedman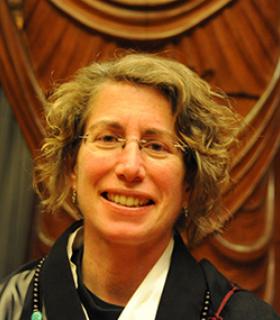 Daju Suzanne Friedman was a Zen teacher in the Hollow Bones Rinzai Zen Sangha. Having first encountered Zen at the Nagaoka Zen Juku, a Rinzai Zen monastery in Japan, she went on to become a doctor and professor of Chinese medicine doctor and professor, as well as a scholar or Daoism, and a qigong master. Daju taught Daoist qigong and spirituality at two Chinese medicine schools in the San Francisco Bay Area. She lead Hollow Bones Zen meditation and services in San Francisco as well. She twice survived cancer, and studied and played the shakuhachi (Japanese Zen bamboo flute) as a meditative practice. Suzanne passed away in March of 2014.
Books, Courses & Podcasts
Zen Cancer Wisdom
With a much-needed sense of levity, Daju Suzanne Friedman teaches the art of keeping one's body, mind, and spirit together while living with cancer.
"Layman Wang once asked his attendant,'What would you do if a dragon suddenly arrived here?' His attendant answered, 'I wouldn't pay attention to anything else.' This is how it feels when you've been diagnosed with cancer. Your attention and focus shift dramatically towards just this one thing. While single-minded focus can be beneficial, it is also important to remember that you are more than your diagnosis, and that there is more to life than being a patient."
—from the introduction
In Zen Cancer Wisdom, Daju Suzanne Friedman—Zen teacher, Chinese medicine doctor, and Qigong specialist—shares the inspirations, insights, and humor that helped her to continue to live fully in the face of cancer. With sections devoted to soothing the spirit, harnessing the mind, nourishing the body, and qigong stretches for soothing aches and pains, Friedman provides thoughtful guidance on topics ranging from hair loss and constipation to coping with stress and learning to laugh again. Each chapter begins with an anecdote drawn from the Zen tradition, followed by personal reflection, and a brief guided practice specifically for cancer patients. Pocket-sized, with short, buoyant chapters, and meditation exercises designed to be practicable anywhere in only a few minutes time, Zen Cancer Wisdom is the perfect companion book for cancer patients.