His Holiness the 42nd Sakya Trizin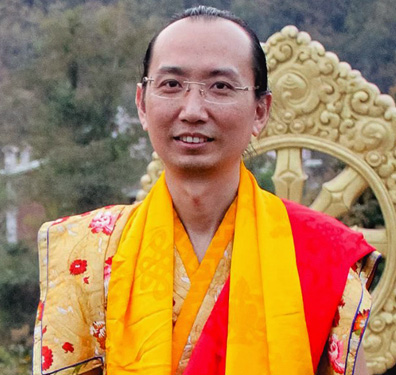 His Holiness Khöndung Ratna Vajra Rinpoche, the 42nd Sakya Trizin, the eldest son of His Holiness the 41st Sakya Trizin, is considered one of the most highly qualified lineage masters of Tibetan Buddhism. Renowned for his erudition and the clarity of his teachings, Rinpoche belongs to the prestigious Sakya Khön family, whose successive generations have provided an unbroken lineage of outstanding masters. From birth, His Holiness was the recipient of countless blessings, empowerments, and teachings from His Holiness the 41st Sakya Trizin as well as many other learned and accomplished masters, including His Holiness the 14th Dalai Lama and His Eminence Chogye Trichen Rinpoche. In March 2017, Ratna Vajra Rinpoche became the leader of Sakya tradition, and he has since continued to guide and inspire Dharma students from around the world.
Books, Courses & Podcasts
The Bodhisattva Path from Ground to Fruition
Discover profound teachings on the Buddhist path from His Holiness the 42nd Sakya Trizin Ratna Vajra, one of Tibetan Buddhism's most prominent leaders.
His Holiness Ratna Vajra Rinpoche is one of Tibetan Buddhism's most highly qualified teachers, having received all the major empowerments, transmissions, and teachings directly from his father, Gongma Trichen Rinpoche, the forty-first Sakya throne holder and one of the most senior teachers of the Sakya tradition. Following in the footsteps of his forefathers, His Holiness is renowned for the purity of his transmission, always taking great care to offer to his disciples the teachings as he faithfully received them. To the great fortune of his non-Tibetan-speaking students, His Holiness is also fluent in English, giving them a direct access to his teachings.
In this book, His Holiness offers profound commentary on Sakya Paṇḍita's Clarifying the Sage's Intent, one of Tibet's most revered works on the bodhisattva path. Elucidating Sakya Paṇḍita's teachings in exquisite detail, His Holiness describes the ground of Buddhist practice as the spiritual potential for liberation that is present in the hearts of all beings. He outlines the foundational practices of taking refuge and cultivating the resolve to become awakened, before detailing the six perfections, the levels of accomplishment of bodhisattvas, and the fruition of practice as a fully awakened buddha.