Kathleen McDonald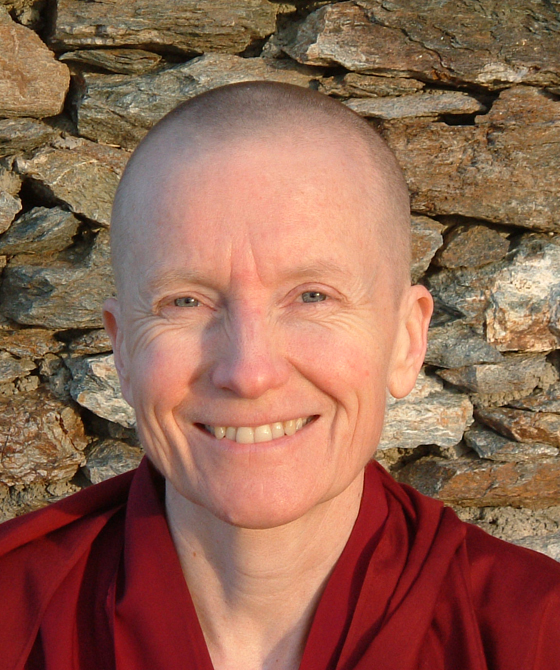 Originally from California, Kathleen McDonald (Sangye Khadro) began studying Buddhism with Tibetan lamas in Dharamsala, India, in 1973. She became a nun in Nepal the following year, and received full (bhikshuni) ordination in 1988. At the request of her teachers, she began teaching in 1980, and since then has been teaching Buddhism and meditation in various countries around the world, occasionally taking time off for personal retreats. She served as resident teacher in Buddha House, Australia, for two years and in Amitabha Buddhist Centre in Singapore for eleven years. From 2008-2015 she followed the Masters Program at Lama Tsong Khapa Institute in Italy.
Books, Courses & Podcasts
How to Meditate
What is meditation? Why practice it? Which techniques are best? How do I do it? The answers to these often-asked questions are contained in this down-to-earth book, making it of enormous value for anyone who wishes to begin and maintain a meditation practice. Written by a Western Buddhist nun with solid experience in both the practice and teaching of meditation, How to Meditate contains a wealth of practical advice on a variety of authentic techniques, from what to do with our minds, to how to sit, to visualizations and other traditional practices. Best of all, McDonald's approach is warm and encouraging.
Wholesome Fear
With the right perspective, our anxiety around sickness, old age, and death can be a "wholesome fear"—a fear with a positive quality that ultimately enriches and nourishes our lives. Lama Zopa Rinpoche shows us how we can use our anxiety as a high-octane fuel to really live what's most important. Alongside Rinpoche's teachings, Kathleen McDonald presents meditations that lead to peace, compassion, and joy for ourselves and others. Approaching our physical realities in this way will help us to live well and, when the time comes as it inevitably will, to die well too. It's never too early to start making this most important of efforts—and, fortunately, it is never too late. An essential guide for anyone confronting the challenges of death and dying, Wholesome Fear serves as a reminder of the gift and truth of impermanence.
Awakening the Kind Heart
A Spirituality & Practice "Best Spiritual Books of 2010" winner.
Everyone appreciates kindness. A smile, a few friendly words, a show of concern when we're troubled or feeling unwell, an offer of help—gestures of kindness like these brighten our day and ease whatever sadness we may feel in our hearts. Feeling that "someone cares" fulfills a very deep need that we all have. And just as we appreciate other people being kind to us, others appreciate it when we are kind to them. That is why it is important to learn to be kind, because it will help make our relationships and interactions with others more satisfying and less problematic.
But it's not always easy to be kind. Sometimes our hearts are filled with anger, jealousy, or pride, and being kind is the last thing we feel like doing. Or we get so caught up in our work and responsibilities that we find no time to think of others and their needs, no time to be kind and gentle. However, these problems can be remedied. The Buddhist tradition offers a wealth of methods that can be used to overcome whatever prevents us from being kind and gentle.
Some of these methods are explored and explained in this book—in a way that will allow you to practice them in your daily life. Awakening the Kind Heart offers powerful and inviting meditation techniques to activate the heart of kindness within us all—a modern and motivating interpretation of traditional and powerful practices.