Master Hsing Yun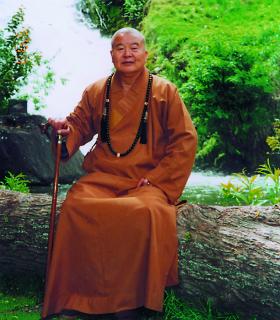 Master Hsing Yun is the founder of Fo Guang Shan—an international Buddhist order with temples worldwide—the affiliated Buddha's Light International, and University of the West in Rosemead, California. Born in 1927, he is a forty-eighth patriarch of the Lin Chi (Rinzai) School of Zen Buddhism and lives in Taiwan.
Books, Courses & Podcasts
Only a Great Rain
Very little has been published to date on China's rich traditions of Buddhist meditation. Inspired by the need to increase meaningful interaction between China and the West on spiritual issues, modern meditation master Hsing Yun here brings this vast legacy to life in straightforward and engaging language. Professor McRae's introduction to the world of Chinese Buddhism helps place these instructions in their wider context.
Describing the Indescribable
The Diamond Sutra is revered throughout Asia as one of the Buddha's most profound expressions of the nature of reality. A gem among the vast Perfection of Wisdom literature, the Diamond Sutra elicits an experience of eternal truth through its use of a seemingly paradoxical style, as the reader goes back and forth between "what is" and "what is not." Master Hsing Yun skillfully plumbs the depths of the Diamond Sutra, illuminating for us its power to change who we are and how we interpret our world.
Business and the Buddha
When it comes to business, everyone wants to do well. But can we do good at the same time? Lloyd Field (and, indeed the Dalai Lama, who provides the foreword here) says, unequivocally, Yes. Field's Business and the Buddha lays out the guidelines for putting ideas about individual and corporate social responsibility into practice without sacrificing the bottom line.
No longer can business—big or small—afford to focus solely on profit. Real assessment of a business's worth must take into account its consideration of our shared human values, and the realities of our shared planet. That doesn't mean a business can't or shouldn't compete; it means that investing in efforts to build a better society can be, on many levels, an asset.
Drawing in a substantial and sophisticated way on traditional Buddhist teachings, Lloyd Field shows how decision-makers and entrepreneurs can achieve new levels of happiness and security both inside and outside the company, and take a power-position as a force for positive global change.