Sam Van Schaik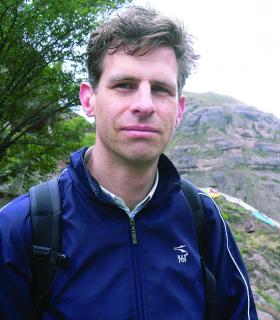 Sam van Schaik works at the British Library in London, researching early Buddhist manuscripts and the history of Tibet and Central Asia. He is the author of several books including Tibet: A History and Tibetan Zen.
Books, Courses & Podcasts
Approaching the Great Perfection
Dzogchen, the Great Perfection, is the highest meditative practice of the Nyingma School of Tibetan Buddhism. Approaching the Great Perfection looks at a seminal figure of this lineage, Jigme Lingpa, an eighteenth-century scholar and meditation master whose cycle of teachings, the Longchen Nyingtig, has been handed down through generations as a complete path to enlightenment. Ten of Jigme Lingpa's texts are presented here, along with extensive analysis by van Schaik of a core tension within Buddhism: Does enlightenment develop gradually, or does it come all at once? Though these two positions are often portrayed by modern scholars as entrenched polemical views, van Schaik explains that both tendencies are present within each of the Tibetan Buddhist schools. He demonstrates how Jigme Lingpa is a great illustration of this balancing act, using the rhetoric of both sides to propel his students along the path of the Great Perfection.
Learn more about the Studies in Indian and Tibetan Buddhism series.
Read Jigme Lingpa's biography at the Treasury of Lives.
The Sakya School of Tibetan Buddhism
Since its 1976 publication in Tibetan, Dhongthog Rinpoche's history of the Sakya school of Tibetan Buddhism has been a key reference for specialists in Tibetan studies. Now English readers can consult it as well through Sam van Schaik's authoritative, fully annotated and accessible translation.
The book begins by examining the development of Buddhism in India and Tibet, setting the scene for the Khon family's establishment of the Sakya school in the eleventh century. Rinpoche subsequently provides accounts of the transmission of the Lamdre (the heart of Sakya contemplative practice and other major streams of esoteric instruction) and the Ngor and Tshar branches of the Sakya tradition. Highlights also include surveys of great Sakya and nonsectarian masters such as Rongtongpa, Gorampa, Jamyang Khyentse Wangpo, and Khyentse Chokyi Lodro. This traditional history, compiled both from earlier histories and from the author's direct connection to masters of the tradition, is an enormously valuable resource for the study of Tibetan Buddhism.