Tulku Thondup Rinpoche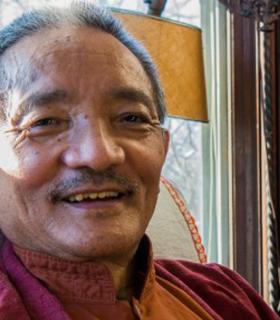 Tulku Thondup Rinpoche was born in Golok, Eastern Tibet, and recognized as a reincarnate lama at age five. He left Tibet as a political refugee in 1958 and taught at Lucknow University and Visva Bharati University in India before coming to the United States as a visiting scholar at Harvard University in 1980. Since then, he has lived and worked in Cambridge, Massachusetts, engaged in translation and writing projects on Tibetan Buddhism, focused particularly on the teachings of the Nyingma school. He is the author of numerous books on history, literature, mind, and meditation.
Books, Courses & Podcasts
Hidden Teachings of Tibet
In all religions, sacred texts and objects have appeared miraculously. Among the most remarkable of these revelatory traditions is the terma tradition of Tibetan Buddhism. Termas herald a fresh opportunity for the renewal of spiritual practice. Here Tulku Thondup tells the story of the terma treasure tradition initiated by Padmasambhava, the ninth-century saint who established Buddhism in Tibet.
Liberation from Samsara
This rare teaching by Rinpoché is a uniquely concise volume of the teachings of the path to liberation that is authentic, authoritative, and complete.
In Liberation from Samsara, the Fourth Kyabjé Dodrupchen Rinpoché presents the Longchen Nyingthik preliminary teachings, with a special focus on guru yoga. These teachings, from the innermost secret instruction of Dzogchen, constitute a complete path to enlightenment.
After discussing the ways to turn our mind toward Dharma and the trainings, Rinpoché provides guru yoga instruction as he turns to the main tantric practice: meditations on unifying one's mind with Guru Rinpoché's wisdom mind. This rare teaching by Rinpoché, though intentionally succinct to accommodate the needs of contemporary Western practitioners, presents a complete path to enlightenment. It contrasts three different paths to liberation: Shravakayana (the way of the disciple), Pratyekabuddhayana (the way of the self-enlightened buddha), and Mahāyāna (the way of the bodhisattva), which is our way, our boundless intention to seek refuge in order to free all sentient beings from samsaric suffering.