Tulku Thondup Rinpoche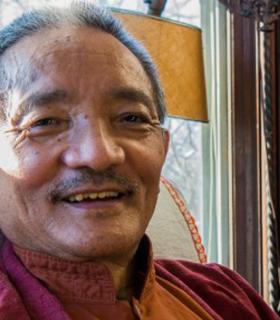 Tulku Thondup Rinpoche was born in Golok, Eastern Tibet, and recognized as a reincarnate lama at age five. He left Tibet as a political refugee in 1958 and taught at Lucknow University and Visva Bharati University in India before coming to the United States as a visiting scholar at Harvard University in 1980. Since then, he has lived and worked in Cambridge, Massachusetts, engaged in translation and writing projects on Tibetan Buddhism, focused particularly on the teachings of the Nyingma school. He is the author of numerous books on history, literature, mind, and meditation.
Books, Courses & Podcasts
Hidden Teachings of Tibet
In all religions, sacred texts and objects have appeared miraculously. Among the most remarkable of these revelatory traditions is the terma tradition of Tibetan Buddhism. Termas herald a fresh opportunity for the renewal of spiritual practice. Here Tulku Thondup tells the story of the terma treasure tradition initiated by Padmasambhava, the ninth-century saint who established Buddhism in Tibet.