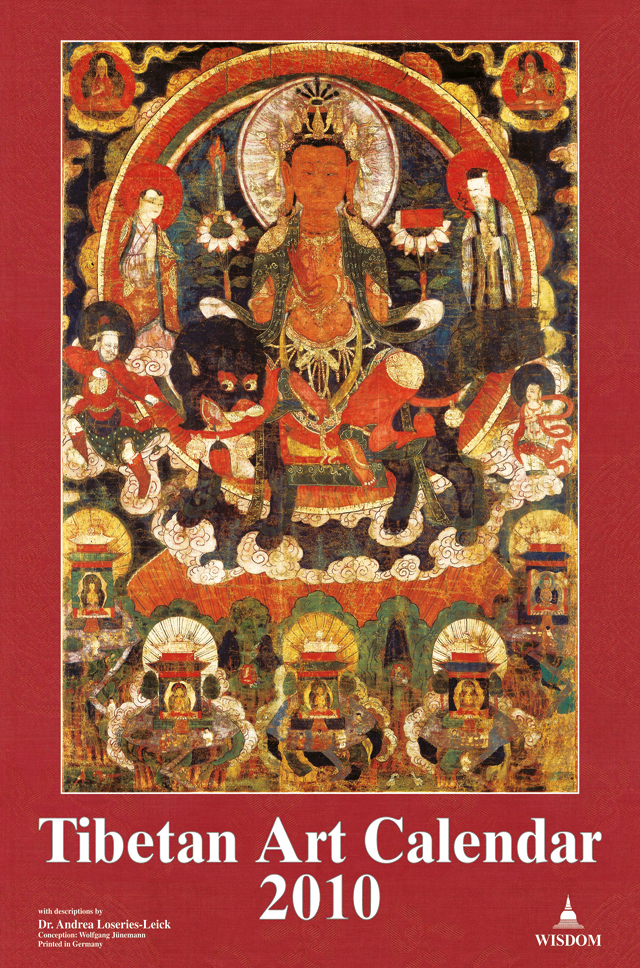 TIBETAN ART CALENDAR 2010
Poster-sized reproductions of classical paintings produced to the highest standards. Wisdom's Tibetan Art Calendar is an annual favorite.
The antique scroll-art masterpieces seen in Wisdom's Tibetan Art Calendar 2010 are called thangkas. While the thangka is common to Tibetan Buddhists, its finest examples are highly sought-after in the international art community and have become hot properties in the same vein as Oriental rugs and ceramics. As a result, the best of these works are seldom, if ever, available for public viewing.
This is why Wisdom's Tibetan Art Calendar is so special. It's an affordable way to enjoy incredibly rare and meaningful works of sacred art, year-round. These thirteen sacred paintings by Tibet's master painters represent a variety of classical images, mandalas, deities, and icons. Each poster-sized picture is produced to the highest German printing standards, and is suitable for framing. Complete with in-depth explanations of their cultural and philosophical significance, these exquisite fine art reproductions will be treasured for years to come.
Images in the 2010 calendar are:
The Wheel of Existence
Drikung Lineage field of accumulation
Tsongkhapa
Buddha Amitabha in Sukhavati
Yamini, Amor goddess
Mandala of Vajravarahi
Padmasambhava as Loden Chogse
King Gesar, Drala of Zhang Zhung
Vajradhara
Thirty Five Confession Buddhas
Rudra Cakrin: Last King Shambhala
62 Deity Mandala of Cakrasamvara
Manjughosa, Lion of Debaters
book information
Paperback, wire binding
28 pages, 17.00 x 24.00 inches
$14.95
ISBN 9780861716357