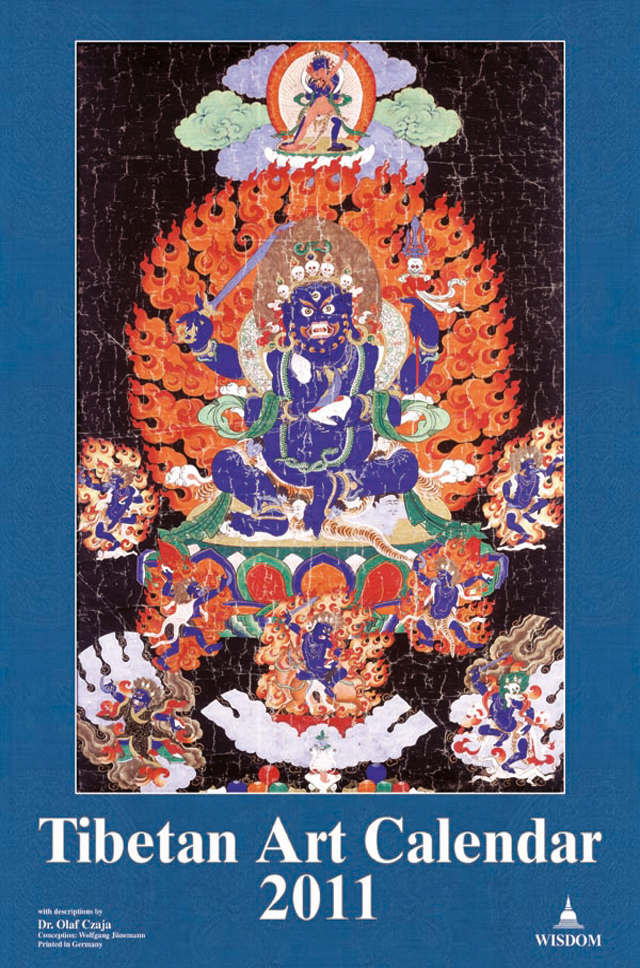 TIBETAN ART CALENDAR 2011
The print edition of this book is out of stock; please check back later. You can also become a Wisdom Experience member to read many of our books online—click here to join now.
This calendar is no longer available for purchase.
Poster-sized reproductions of classical paintings produced to the highest standards. Wisdom's Tibetan Art Calendar is an annual favorite.
The antique scroll-art masterpieces seen in Wisdom's Tibetan Art Calendar 2010 are called thangkas. While the thangka is common to Tibetan Buddhists, its finest examples are highly sought-after in the international art community and have become hot properties in the same vein as Oriental rugs and ceramics. As a result, the best of these works are seldom, if ever, available for public viewing.
This is why Wisdom's Tibetan Art Calendar is so special. It's an affordable way to enjoy incredibly rare and meaningful works of sacred art, year-round. These thirteen sacred paintings by Tibet's master painters represent a variety of classical images, mandalas, deities, and icons. Each poster-sized picture is produced to the highest German printing standards, and is suitable for framing. Complete with in-depth explanations of their cultural and philosophical significance, these exquisite fine art reproductions will be treasured for years to come.
Please note that calendars are unable to ship via USPS Media Mail. If you are ordering a calendar and Wisdom books, you should place the book orders separately to ensure the least expensive shipping.
Images in the 2011 calendar are:
Arhat Abheda
Vajrabhairava
Dharmaraja
Buddha's Miracles
Shri Heruka
Prayer to Padmasambhava
Bardo of Ultimate Reality
Mandala of Guhyasamaja
Shakyamuni and sixteen Arhats
Mandala of Vajrabhairava
Bardo and Yama
Begtse
Four Armed Mahakala