Ani Choying Drolma: A Voice for Nepalese Buddhist Nuns
Posted
In this episode of the Wisdom Podcast, Daniel Aitken speaks with Ani Choying Drolma, Tibetan Buddhist nun from Nepal and internationally renowned singer of both traditional and contemporary Tibetan song. Ani-la is also founder of multiple nonprofits in Nepal, such as the Arya Tara School, which promotes the equality, education, and welfare of Nepalese Buddhist nuns.
Ani Choying entered Nagi Gompa nunnery at age 13, intentionally choosing monastic life over marriage. Escaping an abusive home, Ani-la found refuge in the nunnery. It was here where she would discover childhood for the first time, and where she flourished as a young entertainer and singer. Ani Choying shares stories about her beloved teacher, Tulku Urgyen Rinpoche, who offered unconditional guidance and mentorship, ultimately paving the way for her to pursue singing professionally. You'll hear Ani-la describe her artistic life as both a performer and Buddhist practitioner, and the parallels she finds between singing and meditation. She also describes the difference of intention between devotional singing and regular performance, and the power of certain mantras to stir energies. Finally, Ani-la shares insights on the issue of gender discrimination in Nepal, and the ways in which her nonprofit, the Nuns' Welfare Foundation, creates opportunities for women to surmount gender-based obstacles.
About the Interviewee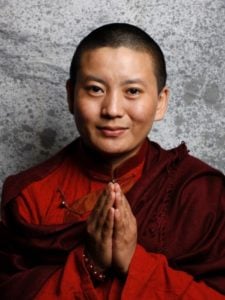 Ani Choying Drolma is a Nepalese Buddhist nun and singer, renowned for her numerous humanitarian efforts including the education of young girls, care of older people, and providing medical services for the underprivileged and dispossessed. To support her charitable activities, Ani performs worldwide, singing traditional and modernized Buddhist chants as well as Nepali and Tibetan songs. Her autobiography, Singing for Freedom, has been published in eleven languages and is listed as an international best seller.
Learn more about Ani Choying Drolma's foundations by visiting The Ani Foundation and The Nun's Welfare Project