Chokyi Nyima Rinpoche: Prioritizing Aspirations Along the Path
Posted
On this special Losar episode of the Wisdom Podcast, host Daniel Aitken travels to Kathmandu to speak with Chokyi Nyima Rinpoche, world-renowned teacher in the Tibetan Buddhist tradition and founder of the Rangjung Yeshe Institute in Nepal. In this special teaching, Rinpoche shares his past life memories and talks about his own experiences with the continuity of consciousness. He then speaks about consciousness itself as well as delusion—how we perceive what is not real as real, what is unclean as clean, and what is impermanent as permanent. Rinpoche teaches how to properly prioritize our aspirations along the path and the wisdom of placing virtue and wholesome living before the realization of the nature of mind. He teaches on the building of a proper foundation and how compassion and loving-kindness are essential ingredients to the highest of practices.
About the Interviewee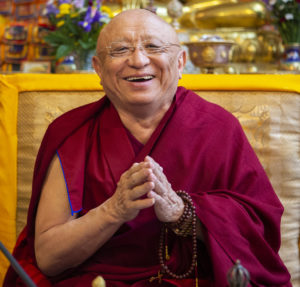 Chokyi Nyima Rinpoche is a world-renowned teacher and meditation master in the Kagyu and Nyingma traditions of Tibetan Buddhism. He was born in Tibet in 1951 as the oldest son of his mother Kunsang Dechen, a devoted Buddhist practitioner, and his father Tulku Urgyen Rinpoche, an accomplished master of Buddhist meditation. As a young child, Chokyi Nyima—"Sun of the Dharma"—was recognized as the 7th incarnation of the Tibetan meditation master Gar Drubchen. In 1974, Rinpoche left India to join his parents in Kathmandu, Nepal, where he assisted them in establishing Ka-Nying Shedrub Ling Monastery. Upon its completion in 1976, H. H. the Karmapa enthroned Chokyi Nyima Rinpoche as the monastery's abbot. To this day, Ka-Nying Shedrub Ling remains the heart of Rinpoche's ever-growing mandala of activity.
Biography and images courtesy of Chokyi Nyima Rinpoche and Chris Zvitkovits (Photographer)