Graham Coleman: Preserving Tibetan Culture in the Digital Age
Posted
In this episode of the Wisdom Podcast, host Daniel Aitken speaks with Graham Coleman, editor and critically acclaimed filmmaker in the Tibetan Buddhist world. In this lively conversation, Graham shares fascinating stories from the making of his feature-length documentary, Tibet: A Buddhist Trilogy. An invaluable exploration of the sacred in Tibetan Buddhist culture, this extraordinary film includes rare and historic footage shot in Dharamsala, Ladakh, and Bouda, Nepal. Graham also shares what it was like working closely with His Holiness the Dalai Lama, H. H. the Sakya Trichen, H. H. Dudjom Rinpoche, and Dilgo Khyentse Rinpoche among many others as part of his film. Additionally, Graham is the founder of Gompa Tibetan Monastery Services, a new online platform bringing together teachings and practices from multiple Tibetan monasteries and nunneries throughout India and Nepal. Graham also discusses his multiple online resources for the preservation of Tibetan culture, including the Classical Tibetan Knowledge Archive and Multimedia Study Resource, which includes thousands of hours of oral commentaries, video and audio documentation of ritual arts, and texts and images.
About the Interviewee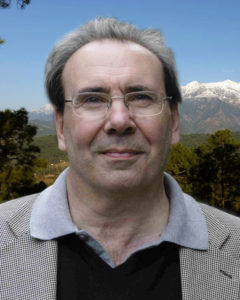 Graham Coleman is writer and director of the acclaimed feature documentary Tibet: A Buddhist Trilogy. He studied Tibetan language and literature at the School of Oriental and African Studies, University of London, and between 1976 and 1989 received teachings on Tibetan Buddhist theory and practice, privately, from H. H. the Fourteenth Dalai Lama, H. H. Trijang Rinpoche, H. H. Dudjom Rinpoche, H. H. Dilgo Khyentse Rinpoche, and H. E. the Sixth Tharig Rinpoche. He has been chief executive of the Orient Foundation for Arts and Culture since 1983, and since 1988 has comanaged the creation of Tibetan-knowledge.org, one of the world's largest online multimedia archives of classical Tibetan knowledge. From 2014 to present he has comanaged the formation of Gompa – Tibetan Monastery Services in cooperation with senior Tibetan lamas and the major monasteries and nunneries of India and Nepal. He is editor of A Handbook of Tibetan Culture (Rider, 1993), the first complete translation of the Tibetan Book of the Dead (Penguin Classics, 2005), and Meditations on Living, Dying, and Loss (Penguin, 2008).