H. H. the Sakya Trizin: Preservation of the Dharma and the Sakya Tradition
Posted
For this very special episode of the Wisdom Podcast, host Daniel Aitken speaks with His Holiness the Sakya Trizin, the 42nd throne holder of the Sakya school of Tibetan Buddhism. In this fascinating conversation, you'll hear His Holiness talk about his childhood growing up in the prestigious Khön family of Tibet. It was the Khön family who originally founded the Sakya order in the 11th and 12th centuries. His Holiness talks about what it was like growing up as the eventual successor to his father as throne holder and how this impacted his years of study in the monastery. His Holiness also talks about his responsibility in the preservation of the Dharma and ways this is connected to the preservation of the Sakya teaching lineage itself.
About the Interviewee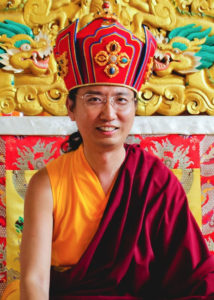 His Holiness the 42nd Kyabgon Gongma Trizin, Ratna Vajra Rinpoche, is the eldest son of His Holiness Sakya Trichen (the 41st Sakya Trizin). He is considered one of the most highly qualified lineage masters of Tibetan Buddhism. Renowned for his erudition and the clarity of his teachings, His Holiness the 42nd Sakya Trizin is a member of the prestigious Khön family, whose successive generations have provided an unbroken lineage of outstanding masters.
On March 9, 2017, His Holiness accepted the mantle of leadership from his esteemed father and root guru, in his new capacity as the 42nd Sakya Trizin or throne holder of the lineage. In doing so, he will continue to guide and inspire Dharma students from all over the world with his wisdom, genuine qualities of unaffected simplicity, humility and complete honesty, by presenting the Buddha's teachings in the most authentic way, while maintaining the purest of Buddhist traditions.
Biography courtesy of the official website of His Holiness the 42nd Sakya Trizin
Photograph courtesy of Jamyang Zangpo