Cyrus Stearns: Translating for the Great Sakya Masters
Posted
For this episode of the Wisdom Podcast, host Daniel Aitken travels to Whidbey Island off the coast of Washington State to speak with Cyrus Stearns, independent scholar and translator in the Tibetan Buddhist tradition. Cyrus is the author of several books, including Taking the Result As the Path: Core Teachings of the Sakya Lamdré Tradition.
Cyrus has had the rare opportunity of working in an intimate context with some of the greatest masters in the Sakya tradition. In this rich conversation, he shares stories about his experiences working with both Dezhung Rinpoche and Chogye Trichen Rinpoche in India and Nepal. He compares their individual teaching styles, and explains how most of what he learned about his own practice was the result of simply observing their wisdom and compassion behind the scenes. Additionally, Cyrus reviews the basic structure of the Lamdré, which is the fundamental system of teaching and practice in the Sakya tradition, and includes a touching story about how he received these teachings that have guided his career for decades.
About the Interviewee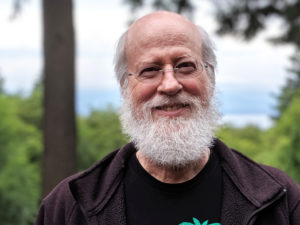 Cyrus Stearns first began to study Buddhism with Dezhung Rinpoche (1906–87) in 1973. Since that time he has studied with and translated for many Tibetan teachers, especially Dezhung Rinpoche and Chogye Trichen Rinpoche. Cyrus has a PhD in Buddhist studies from the University of Washington and lived for about eight years in Nepal, India, and Southeast Asia. Among his other publications are The Buddha from Dölpo, Hermit of Go Cliffs, and Luminous Lives. Cyrus has three daughters and lives on Whidbey Island, Washington.