John Dunne: Dharmakīrti, Perception, and Cognitive Science
Posted
For this episode of the Wisdom Podcast, host Daniel Aitken speaks with John Dunne, Distinguished Professor of Contemplative Humanities at the University of Wisconsin–Madison and author of Foundations of Dharmakīrti's Philosophy, published by Wisdom. John's research focuses on Buddhist philosophy in relationship to contemplative practice, religious studies, and cognitive science. In this rich conversation, John covers a wide array of fascinating topics. He talks about the innate need for physiological connection with other human beings and its relationship to both fear and anxiety within both Buddhist and cognitive science perspectives. He then delves deeply into the world of Dharmakīrti's philosophy of perception, comparing Dharmakīrti's views with that of other Indian Buddhist philosophers as well as Tibetan Mahāmudrā. John weaves all this together within an intriguing account of his own life story. He talks about his spiritual quest for his so-called "true identity" as a young person, his multiple paths through college including his time at Harvard University, and the great impact of his teachers such as Robert Thurman and Chokyi Nyima Rinpoche.
About the Interviewee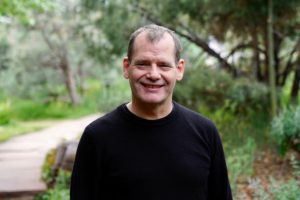 John D. Dunne serves on the faculty of the University of Wisconsin-Madison, where he holds the Distinguished Chair in Contemplative Humanities at the Center for Healthy Minds. He is also chair of the Department of Asian Languages & Cultures. His work focuses on Buddhist philosophy and contemplative practice, especially in dialog with Cognitive Science and Psychology. His more than fifty publications appear in venues ranging across both the Humanities and the Sciences, including Foundations of Dharmakīrti's Philosophy (2004) and Science and Philosophy in the Indian Buddhist Classics: The Mind (2020). John Dunne speaks in both academic and public contexts, and he occasionally teaches for Buddhist communities. His broader engagements include being a Fellow of the Mind and Life Institute, where he was previously a member of the board of directors, and serving as an academic advisor to the Rangjung Yeshe Institute in Kathmandu, Nepal.
Photograph and bio courtesy of John Dunne.