Charles Hallisey: Reimagining Buddhist Scripture
Posted
In this episode of the Wisdom Podcast, host Daniel Aitken speaks with Charles Hallisey, scholar and beloved professor at Harvard Divinity School. Professor Hallisey's research centers on Theravada Buddhism in Sri Lanka and Southeast Asia, Pali language and literature, Buddhist ethics, and literature in Buddhist culture. His most recent book is Therigatha: Poems of the First Buddhist Women (Harvard University Press, 2015). In this fascinating conversation, Professor Hallisey shares his earliest encounters with the Theravada tradition in Sri Lanka and the ways in which his most revered teachers have left lasting impressions on him and his life's philosophy. He mentions by name some of his teachers who introduced him to the human heritages of Buddhism in Sri Lanka: John Ross Carter, Mahinda Palihawadana, Kenneth Morgan, B.M. Kiribanda, P.B. Meegaskumbura, and especially G.D. Wijayawardhana. Professor Hallisey also talks about the study of Buddhism in academia as a process of calling oneself into question and how this factors into his life as both a student and teacher. Lastly, Professor Hallisey delves deeply into the world of reading Buddhist scripture and literature and suggests ways we might reimagine our engagement and interpretation of texts in radically new, inspiring, and ethically conscious ways.
Extra Content
Charles Hallisey's remembrance of his teacher, Professor G.D. Wijayawardhana, published on the occasion of his death, can be found here in two parts: Part I and Part II.
About the Interviewee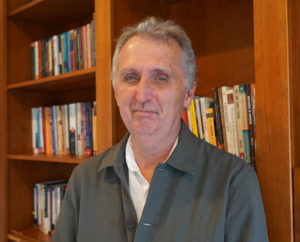 Charles Hallisey is the Yehan Numata Senior Lecturer on Buddhist Literatures at Harvard Divinity School. He joined the faculty of Harvard Divinity School in 2007–08 after teaching at the University of Wisconsin as Associate Professor in the Department of Languages and Cultures of Asia and the Religious Studies Program since 2001. Earlier, he taught in the Department of Theology at Loyola University in Chicago and at Harvard University where he was John L. Loeb Associate Professor of the Humanities in the Committee on the Study of Religion and the Department of Sanskrit and Indian Studies from 1996 to 2001. He is currently working on a book project entitled Flowers on the Tree of Poetry: The Moral Economy of Literature in Buddhist Sri Lanka.