John Tarrant Roshi: Koans, Uncertainty, and Insight (#103)
Posted
For this episode of the Wisdom Podcast, host Daniel Aitken speaks with Zen teacher John Tarrant Roshi about one of John's favorite topics: Zen koans. As a meditation teacher, koans are a core foundation of John's teaching methodology, and he has spent a lifetime refining his understanding of their function as a gateway to insight as well as a teaching tool. For John, a koan is not a gadget but a method and an environment. Instead of viewing Zen as a set of rules and procedures, he discusses koan practice as a creative process. Like a poet who trusts that the next line will appear in his or her poem, engaging with a koan requires a similar leap into uncertainty. Likewise, uncertainty can itself function as a method and an object of trust. John also speaks to the function of beauty, art, and music as being koan-like in their ability to spark insight.
A native of Australia, John also considers the parallels between Aboriginal spirituality and Buddhist practice and shares stories from his early years meditating in the rainforest that laid the foundation for his spiritual practice. The podcast concludes with John sharing a reading of "The Master Song Man: An Australian Koan" from his book Bring Me the Rhinoceros.
John is the Dharma heir of Zen teacher Robert Aitken and is also the director of the Pacific Zen Institute, which has centers in California, Arizona, and Canada.
About the Interviewee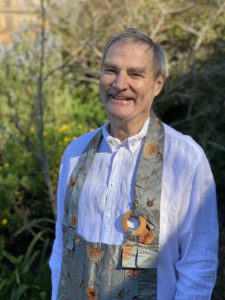 John Tarrant Roshi (born 1949) is a Western Zen teacher, director of the Pacific Zen Institute (pacificzen.org) which has centers in California, Arizona, and Canada. He teaches and writes about the transformation of consciousness through the use of the Zen koan and trains koan meditation teachers. Tarrant is from Australia and attended the University of Tasmania and then the Australian National University, where he earned a degree in Human Sciences and English Literature. He later earned a Ph.D. in Psychology from Saybrook Institute in San Francisco. He wrote his doctoral thesis on "The Design of Enlightenment in Koan Zen" and for twenty years was a Jungian psychotherapist working on dream analysis at the same time as he developed his teaching of koans. Tarrant's first Buddhist studies, in the early 1970's, were with Tibetan Lamas who visited Australia. He discovered koans (stories sometimes given to Zen practitioners to hasten and refine insight and enlightenment) and, lacking any teachers in the southern hemisphere, worked on them by himself for a number of years. Later in the United States he passed his first koans with Korean teacher Seung Sahn. He studied with Robert Aitken in Hawaii for 9 years and was Aitken's first dharma heir. He also did advanced koan work with Koun Yamada. He began teaching in 1983. In 1987 he founded the organization which evolved into the Pacific Zen Institute (PZI) in Santa Rosa, California, devoted to koan work and the arts.
John Tarrant's writing has appeared in The Paris Review andThreepenny Review, and in the books Beneath a Single Moon: Buddhism in Contemporary American Poetry and What Book? Buddha Poems From Beat to Hiphop. Tarrant's own books include The Light Inside the Dark: Zen Soul & The Spiritual Life (HarperCollins) —a map of the spiritual journey including the dark bits—and Bring Me the Rhinoceros—& Other Zen Koans To Save Your Life (Harmony), which is a sampler of koans and a western approach to them.