Larry Rosenberg: Early Pioneer of Buddhism in the West
Posted
In this episode of the Wisdom Podcast, host Daniel Aitken speaks with Larry Rosenberg, meditation teacher and founder of the Cambridge Insight Meditation Center, established in 1985. Larry is among the earliest pioneers of Buddhism in America. At 87, he has observed a great deal of American Buddhism's growth and transformation in his forty years of teaching. In this rich conversation, Larry talks about leaving academia after being a professor of social psychology at both Harvard and Brandeis University, and how his craving for more experiential knowledge of the mind led him to meditation. Larry also shares his early encounters with J. Krishnamurti, who was a major influence on his spiritual path, and how many years in the Korean Zen tradition led to his interest in Vipassana. Later, the profound advice of His Holiness the Dalai Lama would help Larry develop his teaching philosophy at the Cambridge Insight Meditation Center. Larry shares how the Dalai Lama's instruction to narrow his focus on the Four Noble Truths has proven successful after many decades of teaching. Larry and Daniel also discuss the topic of engaged Buddhism in the West, monastic versus lay life, and how Larry has developed as both a practitioner and teacher over the course of his lifetime.
Extra Content
TRANSCRIPT:
If you would like to read a transcript of this podcast, one is available for download here.
About the Interviewee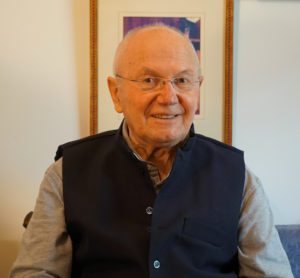 Larry Rosenberg is the founder and a guiding teacher at the Cambridge Insight Meditation Center. He practiced Zen for many years before coming to Vipassana meditation. He was also guiding teacher at the Insight Meditation Society for fifteen years. Larry is the author of Breath by Breath: The Liberating Practice of Insight Meditation, Living in the Light of Death: On the Art of Being Fully Alive, and Three Steps to Awakening: A Practice for Bringing Mindfulness to Life.