Michael Mendizza: Conversations with Samdhong Rinpoche and J. Krishnamurti
Posted
For this episode of the Wisdom Podcast, host Daniel Aitken speaks with Michael Mendizza, documentary filmmaker and author of Always Awakening: Buddha's Realization, Krishnamurti's Insight. In this fascinating conversation, you'll hear Michael share stories from his creative filmmaking journeys, and in particular the extremely rare opportunities he had of spending one-on-one time with two towering figures in the world of Buddhism and Eastern spirituality: Tibetan Buddhist master Samdhong Rinpoche and Indian spiritual philosopher J. Krishnamurti. In this conversation, you'll hear Michael and Daniel think through central questions relevant to the philosophy of these two spiritual giants: What is mindfulness and attention? What does it mean to be an observer? What's the difference between the relative and the absolute? Michael draws from knowledge gained having spent hours upon hours with both these teachers, and reads excerpts from Samdhong Rinpoche's responses to some of Krishnamurti's central philosophical concepts.
Extra Content
Learn more about Michael Mendizza's book Always Awakening: Buddha's Realization, Krishnamurti's Insight by visiting his book's webpage here.
Below are a few additional materials: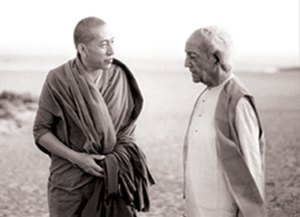 Pictured: Samdhong Rinpoche and J. Krishnamurti. Courtesy of Michael Mendizza.
About the Interviewee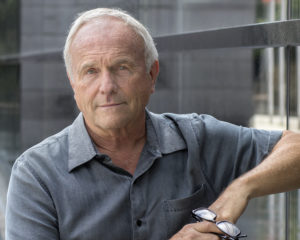 Michael Mendizza is an author, educator, entrepreneur, documentary filmmaker, and founder of Touch the Future, a nonprofit learning design center focusing on optimum human potential. He is the author of six books: Magical Parent Magical Child: The Art of Joyful Parenting, co-authored with Joseph Chilton Pearce; Playful Wisdom, exploring the critical role fathers play during the early and explosive first two years of a child's life; Always Awakening: Buddha's Realization, Krishnamurti's Insight with Samdhong Rinpoche, the first prime minister of Tibet in exile; Flowering, a collection of dramatic floral and seascape images with quotes by Krishnamurti; The Life and Insights of Joseph Chilton Pearce: Astonishing Capacities and Self-Inflicted Limitations; and Unconditionally Free, a comprehensive overview of the life and insights of J. Krishnamurti.