Thupten Jinpa: Illuminating the Intent (#109)
Posted
This episode of the Wisdom Podcast, recorded live as a Wisdom Dharma Chat, features a conversation with guest Thupten Jinpa Langri. This Dharma Chat was a special book launch where we celebrated the release of Jinpa's translation of Tsongkhapa's Illuminating the Intent: An Exposition of Candrakīrti's Entering the Middle Way.
Topics discussed include the significance of this text, common misunderstandings of Nāgārjuna's Madhyamaka, some of Tsongkhapa's most important ideas and philosophies, and much more.
Remember to subscribe to the Wisdom Podcast on your favorite podcasting app and leave us a five-star review if you like our show! Every review helps more people discover the teachings we share.
About the Interviewee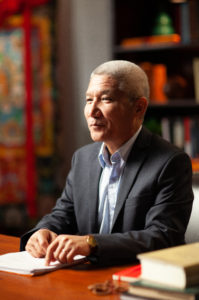 Thupten Jinpa Langri was educated in the classical Tibetan monastic academia and received the highest academic degree of Geshe Lharam (equivalent to a doctorate in divinity). Jinpa also holds a BA in philosophy and a PhD in religious studies, both from the University of Cambridge, England. Since 1985, he has been the principal translator to the Dalai Lama, accompanying him to the United States, Canada, and Europe. He has translated and edited many books by the Dalai Lama, including The World of Tibetan Buddhism, Essence of the Heart Sutra, and the New York Times bestseller Ethics for the New Millennium.
Jinpa has published scholarly articles on various aspects of Tibetan culture, Buddhism, and philosophy, and books such as Songs of Spiritual Experience: Tibetan Poems of Awakening and Insight (co-authored); Self, Reality and Reason in Tibetan Thought; and the definitive biography of Je Tsongkhapa, Buddha in the Land of Snows. He serves on the advisory board of numerous educational and cultural organizations in North America, Europe, and India. He is currently the president and the editor-in-chief of the Institute of Tibetan Classics, a nonprofit educational organization dedicated to translating key Tibetan classics into contemporary languages. And he also currently chairs the Mind and Life Institute and the Compassion Institute.